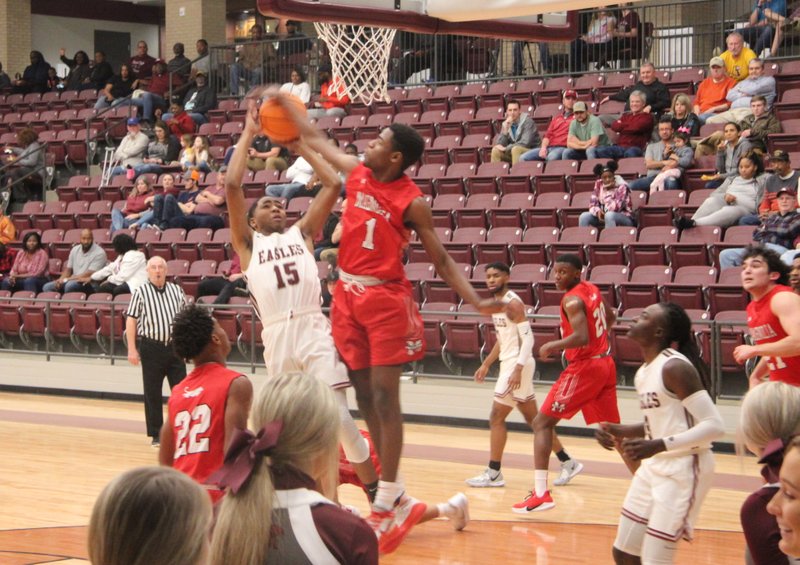 Magnolia sophomore Devonte Walker blocks a shot during action last week at Crossett. The Panthers have three conference games remaining before the region tournament starts Feb. 26. - Photo by Chris Gilliam
Magnolia knows that success during the conference and nonconference seasons is meaningless if it doesn't win that first game in the region tournament.
The Panthers' first step in defending its state basketball championship from a year ago will start in two weeks at the Class 4A South Region Tournament at Crossett.
However, first-year head coach Ben Lindsey is not looking ahead.
"Every coach knows that the next game is the biggest game," said Lindsey. Prior to the region tournament, the unbeaten Panthers will host Star City Friday night and entertain Hamburg Tuesday, before heading to Warren a week from Friday for the regular season finale.
Following a huge road win at Monticello last week, Lindsey said the Panthers are trying to hold on down the stretch and get that No. 1 seed in the region tournament. If they are able to do that, they will play a 5:30 p.m. game Feb. 26 at Crossett against the fourth-seed from the 4A-7 Conference.
At the Class 4A South Region Tournament Feb. 26-29, teams must win their first-round game to advance to the state tournament on March 2-7 at Farmington.
The South Region will match the top four teams from the 4A-7 and 4A-8 conferences.
As of Monday, Magnolia, Monticello and Warren were in solid positions to make the region tournament, while Camden Fairview, Star City and Crossett were battling for the final spot.
In the 4A-7 Conference, Arkadelphia, Malvern and Nashville are the three leaders, with Bauxite and Hope battling for the fourth slot.
However, some conferences hold a district tournament, which could allow for a lower seed team to pull an upset and advance to region.
Lindsey is still pleased with the way his team is playing unselfish basketball and working together on the floor. He continues to talk about many of his players and what they actually contributes to the team.
Last week at Monticello, he did not substitute and played his five starter the entire game.
"That was because of the way the game was going and we had to fight for everything. We're not big, but we do okay on the board. Monticello is longer at some positions and just as athletic as we are," explained Lindsey.
During that game, four of his starters scored in double figures. Braylen Beasley led with 20 points, Colby Garland had 17, Derrian Ford 14 and Kyle Carver finished with 13. Devonte Walker added five.
Magnolia won 69-44, but Lindsey said it seemed much closer all night.
"This really didn't seem like a 25-point win for us. Their crowd was into it each time they scored and both teams traded buckets for a period of time,"said the coach.
He continues to point out different ways individual Panthers contribute.
He noted that 6-4 sophomore guard Walker continues to get better.
"I really don't think our community understand how talented he is, and he doesn't understand how talented he is. The more experience and confidence he gets, I think people are going to be please with what they are seeing," said Lindsey. "He creates a tough matchup problem for opponents when he's on the floor and our offense really opens up when he's able to knock down shots."
According to Lindsey, Walker and 6-2 senior Beasley have the best court vision of all his players.
"Colby and Derrian are good passers, but the perception of Walker and Beasley is phenomenal. Trust me when I say there's really not much Devonte can't do," stated the coach.
According to Lindsey, Garland and Ford are going to have exceptional games when ever the pace is up and down the floor.
"They both are so fast with the ball and capable of making shots that others only dream of," he said.
He said Garland has improved his game to the point where he can now either pull up for a shot or drive to the rim, calling him a threat on many levels.
"In transition, Ford is so physical that he's going to do something under the basket. He's really shifty for his size, but both of those guys are tough in the open floor," said Lindsey. "They are good at stopping and starting, but Ford is excellent at going side to side."
The coach explained that Ford probably gets frustrated at times because every opponent is targeting him and trying to keep him away from the rim.
"If people had to come out and guard us all the time like you see in college, you will see a guy like Ford who can really move and score. You see it in flashes. He's seeing what he wants to do and the lanes are there, but he's having to beat two and three guys each time," added Lindsey.
The coach also explained that Magnolia wouldn't be where it is today without players like Beasley and 6-3 senior classmate Kyle Carver.
"They don't always get the publicity or notoriety as those two sophomores, but anyone who knows basketball and understands the game can see just how important these two seniors are to a team," he said.
Overall, Lindsey said he's blessed with a team that's "not big and not small."
"We don't have that big guy in the middle. The group we've been starting has good size and we have big guards. We are pretty decent across the board. Kyle is an enforcer who is big, strong and active, but there's no long 6-5 or 6-6 guy in the middle," explained the coach. "I think we make do with what we have."
Sponsor Content