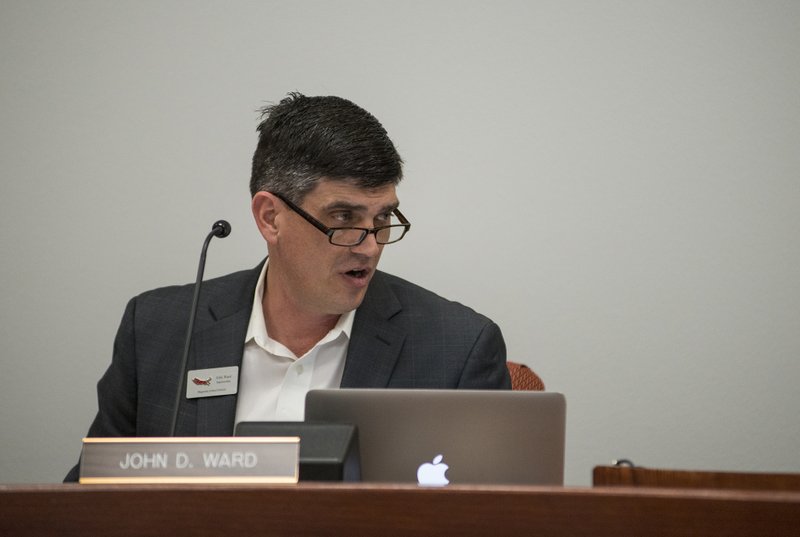 Magnolia Superintendent John Ward speaks Monday, Feb. 10, on happenings in the District during the month's regular School Board of Education meeting. - Photo by J.D. Bailey
With many of Magnolia School District's buses in dire need of replacement, the Magnolia Board of Education on Monday passed a measure accepting a low bid from Farmers Bank & Trust to finance the purchase of 15 new haulers for its fleet. The total cost of the issue -- each new bus costing $80,700 -- equated to a $1,210,500 lease to be paid over five years.
The issue to purchase so many new buses came up in January after Chris Hurley, director of support services for Magnolia Schools, informed the board that many buses, with their extended pickups around the county and some being nearly 25 years old, are simply worn out and in strong need of an influx of new vehicles on the road. He noted that extracurricular activities have also put added strain and wear on the buses, stating that last October alone, the fleet took 59 trips for sports and other school organizations.
The board decided that it would attempt to keep the financing of the project local and took bids from multiple lending institutions in the area. In all, bid proposals were submitted by the aforementioned Farmers Bank & Trust, BancorpSouth, and Bodcaw Bank. Summit Bus company also submitted a finance plan directly through the vehicle manufacturer. Beardsley Financial Services, a Little Rock-based firm that often performs bond work with for the school district, also submitted a proposal, but it was essentially a subcontractor service, meaning that the financial service would oversee the process and take bids from banks all over the region.
Ultimately, the bid from Farmers Bank in Magnolia was accepted. The lender won due to its low-interest rate at 2.75%.
"My recommendation would be to accept the proposal from Farmers Bank at $80,500 [per bus]," said Superintendent John Ward to the Board.
The vote by school board members William Watson, Roger Loper, Steven Souter, and Lynsandra Curry passed unanimously. School Board President Mike Waters, who is also the president of BancorpSouth, abstained from all voting and discussion on the bus matter due to conflict of interest.
Other School Board items discussed and passed Monday included the following:
-- The Board passed a measure officially reconfiguring the grades at Magnolia Junior School next year from the current seventh through ninth education to sixth through eighth grades. The move is set to begin next school year when the ninth grade moves into its academy building at the Magnolia High School campus. When the new grade alignment moves into the junior high, the school will be renamed to Magnolia Middle School.
-- New classes were added to Magnolia High School for the 2020-21 year, including agri business and industrial maintenance.
-- Magnolia Junior High, which will be Magnolia Middle School next year, added strategic reading for sixth graders, as well as seventh- and eighth-graders.
-- Summer school will again take place at Magnolia Junior High School from June 8 through July 1 on Mondays through Thursdays.
-- The 2020-21 school calendar was passed. Included in the schedule are 190 days for teachers (178 spent teaching), six professional development days, two days of parent-teacher conferences, and four teacher contract days. School begins August 17 and ends May 28, 2021. Aside from the traditional holidays as well as spring break winter break, and Christmas break, Good Friday will be observed on April 2.
-- The district is keeping up with school absentee rates due to sickness, but, as of now, there is no scare. Current attendance is anywhere from 89% to 91%, according to Ward, with East Side Elementary and Magnolia Junior High being the hardest hit campuses so far.
"They've been from 85% up to 90%," said Ward.
The superintendent hopes that winter break this weekend will help quell some of the absences. He also noted that there is a basement percentage of absentee rate that can cause the school system to temporarily close, but he added that "we are a long way from that."
NOTE: This article was edited from an original version that stated each bus cost $80,500, instead of $80,700.
Sponsor Content