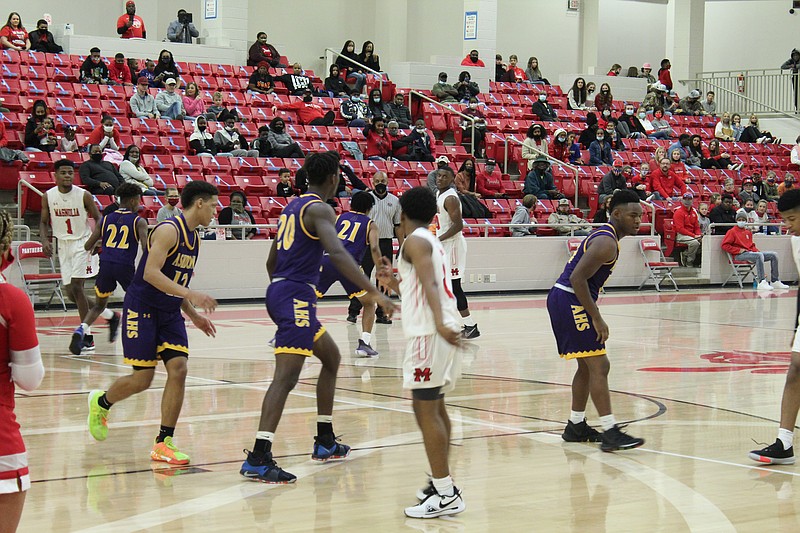 Magnolia opened the season at home Friday night with a 100-53 win over Ashdown. The are scheduled to play Lake Hamilton, Prescott and El Dorado this week. - Photo by Chris Gilliam
Communication was the first word that second-year coach Ben Lindsey said following Magnolia's 100-53 victory over Ashdown Friday night at Panther Arena.
"I thought we communicated very well on the floor. That's the one thing that stood out to me," said Lindsey.
The Panthers are scheduled to return to the floor tonight at Lake Hamilton, with tipoff set to follow a junior varsity game that begins at 6 p.m. On Friday night, Magnolia travels to Prescott and hosts El Dorado Saturday at Panther Arena.
Action at Prescott is set to tip off at 5 p.m. with a freshman boys' game, followed by the Lady Panthers and Panthers.
Saturday's home contest against El Dorado will begin at 6 p.m. with the varsity girls, followed by the Panthers and Wildcats.
In the season opener against Ashdown, Lindsey said it looked as if his team played well.
"You never know how players' legs are going to be at the start of the season and that concerned me at first. But I didn't see any problems in that area," mentioned Lindsey.
The Panthers wasted little time in setting the tone of the game.
Devonte Walker scored first, followed by a conventional 3-point play by Colby Garland. Garland added another bucket, with was followed by Derrian Ford's slam.
Magnolia was up 12-0 during the first three minutes and never looked back.
In the first quarter, Ford finished with nine and Garland added eight as the Panthers led 21-10 after the first break.
The Panthers applied full-court pressure at the start of the second period and outscored Ashdown 25-5 over the first four minutes.
Magnolia carried a 30-point lead, 53-23, into the locker room at half-time.
"We are not very big across the board, but I feel like anyone we put out there can do a good job of guarding," said Lindsey.
The Panthers didn't let up in the second half, leading 87-35 after three quarters and hitting the century mark with a minute to play in the final period.
Thirteen different players scored in the game, with Ford leading the way with 29.
Devonte Walker and Colby Garland added 14 apiece.
According to Lindsey, an athlete can be strong with plenty of muscles, but the key is how well can he control his body.
"Derrian is not only strong, but he knows exactly how to control his body," said the coach. "He was able to get to the rim when he wanted to."
Lindsey also feels that every player on the court for the Panthers this season is a "pretty good shooter."
"They all can handle the ball and pass it. Hopefully these things are going to make us pretty good this season," she said.
He added the Panthers will give up some points in the paint this season and some rebounds, but added his team is strong in other areas.
"We're hoping that we will have more of an advantage than the teams that are bigger than we are," he said.
Sponsor Content