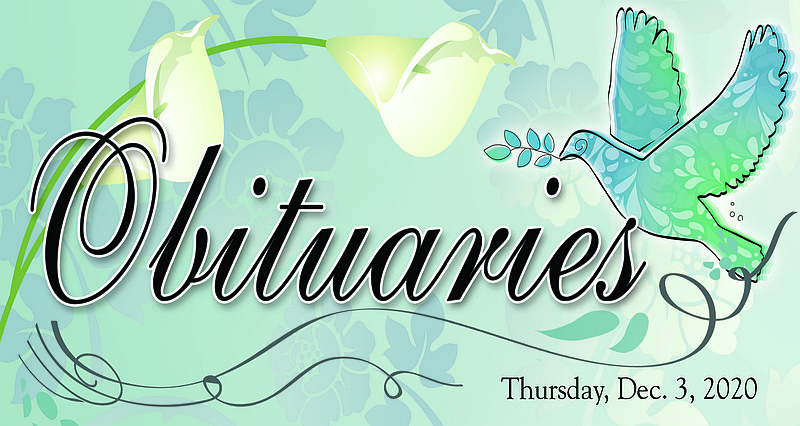 DON McDANIEL
Don L. McDaniel, 76 of Magnolia, passed away Tuesday, December, 1, 2020 at the Magnolia Regional Medical Center. Arrangements are pending with R.L. Reed Funeral Home of Magnolia.
• • • •
DEMECKUS SINGLETON
Demeckus Singleton, 28 of Magnolia, Arkansas, passed Saturday, November 28, 2020, in Malvern, Arkansas. Arrangements are pending with R.L. Reed Funeral Home in Magnolia.
• • • •
JEWELENE BIDDLE
Jewelene Biddle, formerly of Magnolia, died Saturday, November 28, 2020 at Plano, TX. She was 84.
Public viewing will be held on Friday, December 4, 2020 from 2 to 4 p.m. at Henderson's Mortuary in Magnolia. Due to the contraints of Covid-19, masks and social distancing practices are required.
Graveside funeral service will be held on Saturday, December 5, at 11 a.m. the the Kings Hill Cemetery in Magnolia, under the direction of Henderson Funeral Service. Online guestbook available at www.hendersonsmortuary.com.
• • • •
ELDER JEROME EDWARDS
Elder Jerome Edwards, Sr., age 55, resident of De Queen, Arkansas, passed away from this life on Wednesday, November 25, 2020, in Texarkana, Texas. Funeral services will be held at 1 p.m. Saturday, December 5, 2020 at the De Queen First Baptist Church. Burial will follow at Redmen Cemetery in De Queen, under the direction of Chandler Funeral Home of De Queen. The family will receive friends for a walk-through visitation from 5 to 6 p.m., Friday, at the funeral home. You may send an online sympathy expression at www.chandlerfuneral.com. The use of a face mask or covering will be required during you time at the funeral home and church.
• • • •
NAPOLEON LITTLE
Napoleon Little, 64 of Waldo passed Friday, November 27, 2020, at Magnolia Regional Medical Center in Magnolia.
Graveside Celebration of Life services will be held Sunday, December 6, 2020, at Cedar Grove Cemetery in Waldo at 2 p.m., under the direction of R.L. Reed Funeral Home. Visitation will be Friday, December 4, from 2–4 p.m.
Due to the COVID-19 pandemic, everyone is required to wear a mask while attending the services and during visitation hours.
• • • •
DANNY PHILLIPS
Danny Clay Phillips, 70 of Mount Holly, Arkansas passed away on Monday, November 30, 2020 at his home.
Danny was born on November 10, 1950 in Magnolia, Arkansas to the late Henry Clay Phillips and Jodah Levina (London) Phillips. He retired from Great Lakes Chemical, was of the Baptist faith, and loved hunting, fishing, woodworking, and cherished his family and grandchildren.
He is preceded in death by his parents; wife Ellen Marie (McElfresh) Phillips; a son Thomas Clay Phillips; two brothers Don Phillips and Charles Phillips; and a sister Marjorie Finley. Danny is survived by his daughter Jennifer Evans and husband Carl of Mount Holly; grandchildren, Anna Evans and C.J. Evans of Mount Holly; a sister Kathy Phillips of Little Rock, Arkansas; and a host of nieces nephews and friends.
Visitation with the family will begin at 1:30 p.m. today, December 3, 2020 at Mount Holly Cemetery with a graveside service at 2 p.m. to follow with Bro. Carl Hart officiating under the direction of Lewis Funeral Home, Inc. in Magnolia. Memorial donations may be made to the Cystic Fibrosis Foundation, Little Rock Chapter, 200 Commerce Street, Suite 100, Little Rock, Arkansas 72201.
Due to COVID 19 masks will be required.
To sign the online guestbook or share a memory visit www.lewisfunerahome.biz
Sponsor Content