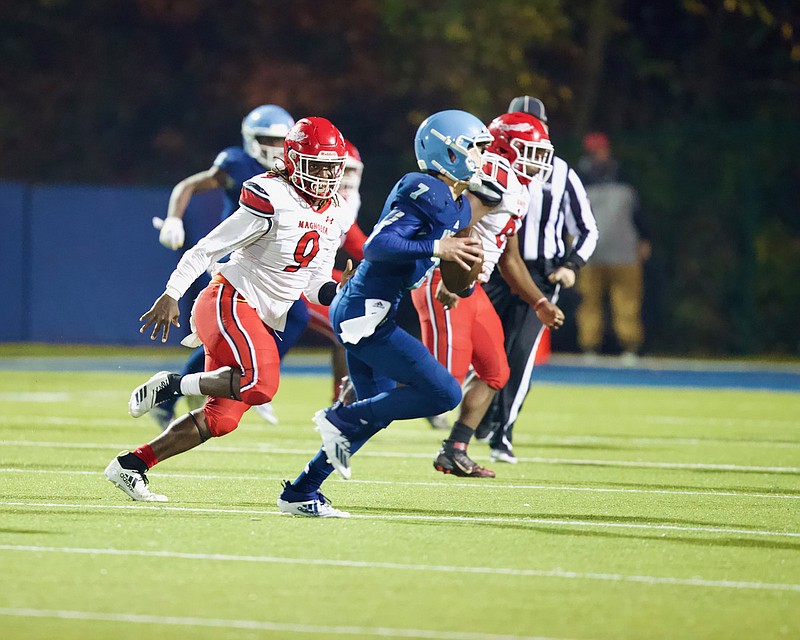 Magnolia senior Javorrea Murphy chases Pulaski Academy's Charlie Fiser during high school playoff action Friday night. The Panthers fell 53-29, ending their season with an 8-3 overall record. - Photo by Bill Nielsen
LITTLE ROCK – Magnolia needed to match Pulaski Academy in scoring and play an error-free Class 5A quarterfinal state football playoff game Friday night in Little Rock.
Neither happened and the Panthers (8-3) saw their season come to an end during a 53-29 loss to the unbeaten and top-ranked Bruins (11-0).
"We've got something to build on. We've got a lot of young kids. I told the team not to hold their heads down and walk off with pride. This senior group helped rebuild and bring pride back to Magnolia football in the past two years. We had a great year and I'm sure no one picked us to be where we are," explained Magnolia head coach Mark King. "The future is bright for Magnolia football as long as we keep working."
King, in his first season at Magnolia a year ago, helped the Panthers end a 10-year playoff drought by getting them back into the playoffs. This season, in the midst of a pandemic and having two contests canceled, Magnolia managed to win two playoff games before being eliminated in the quarterfinals.
Each playoff year (2019, 2020), the losses have come to the topranked Class 5A Pulaski Academy Bruins. They have played in six consecutive state finals, winning five of them, and are favored this season.
On Friday against the Bruins, King said, "I knew our kids would compete, but we knew we'd have to play a perfect game to beat them." Pulaski Academy is a measuring stick of 5A football, and that's where we want to get this program."
The coach also said he knew his Panthers couldn't turn the ball over and give the Bruins extra possessions.
"I think they recovered three on-side kicks and we turned the ball over three times. You can do that against a good football team like them," he said. "We didn't execute well on offense and we put our defense in some bad spots all night."
According to King, his Panthers battled and will go back to work looking to get better.
The Panthers matched the Bruins in scoring during the eight minutes. Pulaski Academy scored first on a 24-yard TD run by Joe Himon and a two-point pass to him made it 8-0 with a minute played. The Panthers struck back at the 4:33 mark when Garrion Curry scored on a 30-yard run and the two-point pass to him evened the battle at 8-8.
The Bruins added two more scores, first on a 8-yard TD pass from Charlie Fiser to Cooper White and then a 19-yard strike from Fiser to Dylan Allison, making it 22-8 following a two-point conversion.
Magnolia responded with a 7-yard score by Curry to close the gap to 22-15 at the 4:30 mark in the second. Quarterback Dalen Blanchard had a 26-yard run on the drive and Jay Todd Baker added the PAT.
A half minute later, Himon had a 20-yard score that pushed the lead to 30-15. With the Panthers threatening late in the first half, Blanchard's pass was picked off at the goal line and returned 63 yards to the Magnolia 27. Pulaski Academy kicker Vaughn Seelicke nailed a 35-yard field goal, making the halftime score 33-15.
The rest of the game belonged to the Bruins. Following a Magnolia fumble, they increased the margin to 39-15 on a 15-yard TD pass from Fiser to Allison. They then recovered the on-side kick and scored four plays later on a 2-yard run by Caleb Nichols, making it 46-15.
In the third, Blanchard had a 2-yard score to make it 46-22, but Himon later broke loose on an 80-yard touchdown run to push it 53-22. He finished with 13 carries for 215 yards.
Magnolia's Jordan Davis and Jakeim Warren came up interceptions on the next two series, but the Panthers couldn't reach the end zone. A 13-play drive allowed them to reach the 5, but the Bruins defense denied the score.
The Panthers did score on the final play of the game when James'Darius Smith crossed the goal line from the 6.
"Again, our kids played hard for four quarters and I am extremely proud of them," said King.
Fiser finished the night 11 of 15 passing for 128 yards and three touchdowns. He share time at QB with senior Nolen Bruffett.
The Panthers did manage to rush for 293 yards, led by Curry's 92 on 16 carries.
In the Class 5A semifinal, the Bruins will host Wynne, who blanked Arkansas High 28-0 to advance. On the other side of the bracket, Little Rock Christian will travel to Harrison.
The Class 5A State Finals will be played Dec. 12 at War Memorial Stadium in Little Rock.
Sponsor Content