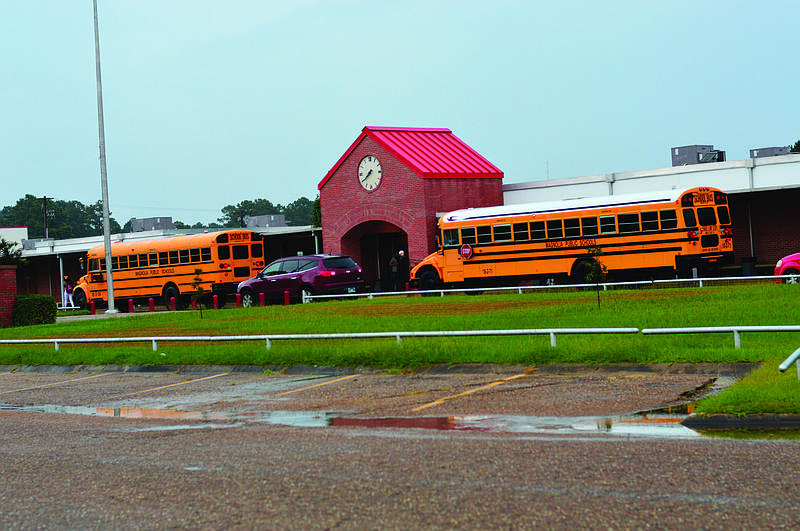 File Photo - Classes began Aug. 24th for the Magnolia School District. Parents have been urged by the school district to screen their children in the mornings before sending them to school, due to the COVID 19 pandemic.
A press release issued by the Columbia County Sheriff's Office is reminding drivers to be mindful of traffic laws now that school is in session and school buses are back on the roads.
"Remember, all drivers must stop if the red stop sign is out and the lights are flashing on a school bus," the statement reads. "Be mindful of school zones and make arrangements to avoid delays in your drive to work (and) school."
This law also applies to four-lane roads for traffic coming from both directions, such as Highway 82 East in Columbia County, which has residential homes on both sides of the road.
According to a 2019 statement from the State of Arkansas House of Representatives, there are approximately 350,000 Arkansas students on school buses each day. In April of that year, there were 884 instances of motorists illegally passing school buses in a single day. Twelve of those instances saw motorists passing on the right side of the bus, where students leave and enter the bus.
Isaac's Law, passed into law in 2005, dramatically increased penalties for those guilty of illegally passing a stopped school bus. A second law in 2019 amended Isaac's Law by further increasing the penalties; the maximum penalties one can face for violating the law includes a fine of up to $2,500 or up to 90 days in jail.
The legislation was named in honor of Issac Brian, an elementary school student in the Bryant School District who was struck and killed by a driver who illegally passed his school bus as he was exiting the vehicle.
"Everyone has a responsibility to ensure students arrive to and from school safely," the State of Arkansas House of Representatives' statement reads. "Remember: Flashing Red. Kids Ahead."
The Sheriff's office stated that they know school will be different this year, but they hope the students, teachers and administrators have a great year.
Sponsor Content