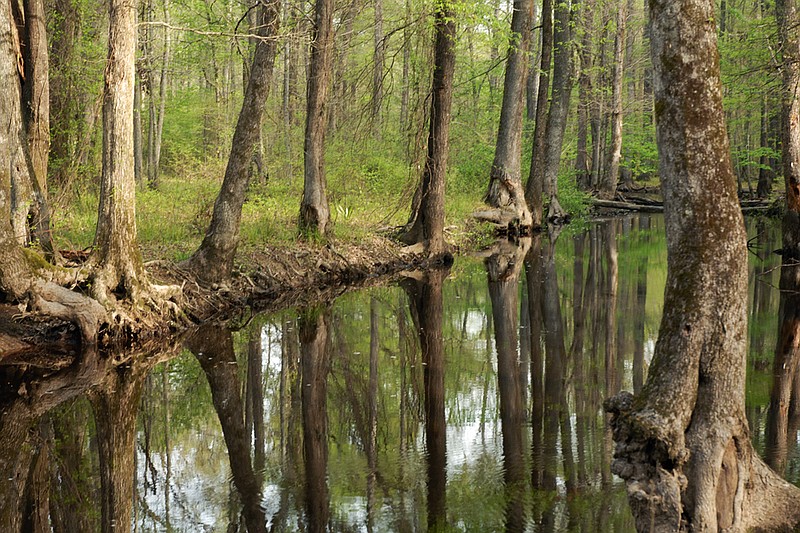 Falcon Bottoms Natural Area is the only Wildlife Management Area in Columbia County. It is home to a variety of wild game and scenic beauty. - Photo by Arkansas Natural Heritage Commission
Deer bow hunting season will be starting in the region soon, and there are a few preparations archers will need to take before they nock their arrows.
Deer stands and ground blinds will need to be cleaned and checked for hazards; equipment needs to be checked and consolidated for ease of access; and for some, it wouldn't hurt to get some practice in with the bow. For those who have no private land to hunt on, the Arkansas Game and Fish Commission has public lands that allow anyone to procure some wild game.
Wildlife Management Areas (WMA) are designated areas set aside by the AGFC that, according to the AGFC website, "offer some of the best hunting and fishing opportunities around." The AGFC acquired and purchased this land to offer residents a place to hunt, fish and enjoy outdoor recreational activities. Each WMA has its own rules and regulations for hunting at the location.
Falcon Bottoms Natural Area WMA is the only WMA in Columbia County. It is situated in the northwest corner of the county (just north of Lake Columbia) and extends to Lafayette and Nevada counties. The land is owned by the Arkansas Natural Heritage Commission and according to their reports, the size of the natural area is over 3,899 acres.
There are specific regulations for those seeking to hunt on the Falcon Bottoms Natural Area WMA. For the 2020-2021 deer season, archery is allowed from Sept. 26 to Feb. 28, with no muzzleloader or modern gun deer season allowed on the land. The WMA bag limit is five deer, which includes no more than two bucks. A buck must have at least three points on one side of its antlers and no dogs are allowed for the hunt.
Outside of deer hunting, there are several other game animals that can be hunted at the Falcon Bottoms Natural Area WMA for the 2020-2021 hunting seasons. Crow season ranges from Sept. 1 - Feb. 28; rabbit from Sept. 1 to Feb. 28; quail from Nov. 1 to Feb. 7; turkey (firearm hunting) from April 19, 2021, to May 19; and squirrel season, which began on May 15 and ends on Feb. 28.
There are four other WMAs that are close to Columbia County: Spring Bank WMA, Moro Big Pine Natural Area WMA, Poison Springs WMA and Lafayette County WMA which all have archery, muzzleloader and modern gun deer seasons, with specific regulations for each location. Moro Big Pine Natural Area WMA, Poison Springs WMA and Lafayette County WMA require a General Use Permit, with the Lafayette County WMA also requiring an additional fee permit from the Arkansas Forestry Commission.
Sponsor Content