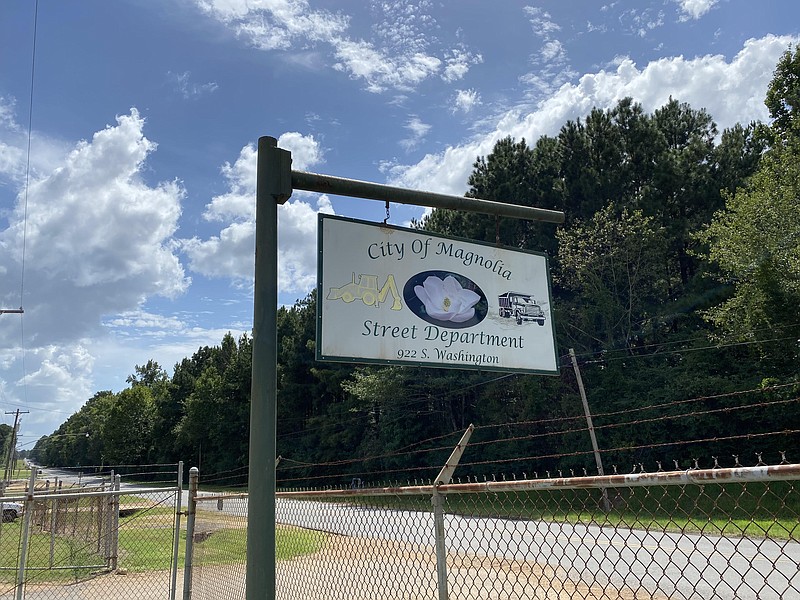 The Magnolia Street Department is located at 922 South Washington Street, with the sandpile and sandbags located opposite of the entrance. - Photo by Rhett Gentry
The National Weather Service in Shreveport, La. has issued a Tropical Weather Warning for Columbia County among other counties in southwest Arkansas. Hurricane Laura is expected to make landfall near the Texas and Louisiana borders as a major hurricane Wednesday evening. Heavy rainfall, strong winds and possible tornadoes are expected overnight. A Flash Flood Watch is also in effect from Wednesday evening to Friday morning.
Southern Arkansas University released a statement Wednesday morning to notify students and the community that SAU is activating its Inclement Weather Policy for the next two days. All face-to-face classes and online courses will be canceled Thursday and Friday. University housing will remain open, meals will continue to be served on campus and the University Police will continue to patrol the campus through the closure, according to SAU's press release. The release urges students to use caution if they plan to travel during the bad weather and to be aware of potential power disruptions and flooding.
The National Weather Service in Shreveport stated that the remote activation of emergency management personnel, amateur radio operators and storm spotters may be needed throughout the day Thursday.
Columbia County Emergency Management Coordinator Larry Taylor said he has been in contact with the Red Cross, which is prepared to set up a shelter as a last resort, with COVID-19 concerns to be addressed at the shelter if the need arises. Taylor said that due to the predicted four to six inches of rainfall and 40 mile-per-hour winds, the typical concerns should be possibilities of short term road floods and power outages.
In a statement to the Banner-News from Magnolia Mayor Parnell Vann, the Magnolia Street Department will be open until 7 p.m. Wednesday for those who need sandbags in case of flooding. The department will provide the sand and the bags, but will not fill them for the residents. The Mayor asks that trash receptacles get pulled back from the road and to keep yard waste from entering the street, as it can create significant drainage issues.
"We ask that you have patience and mercy on the men and women who will be weathering the storm to restore power to our homes and remove debris from our streets," the statement reads.
The Banner-News will continue to monitor the situation and provide updates as the storm develops.
Sponsor Content