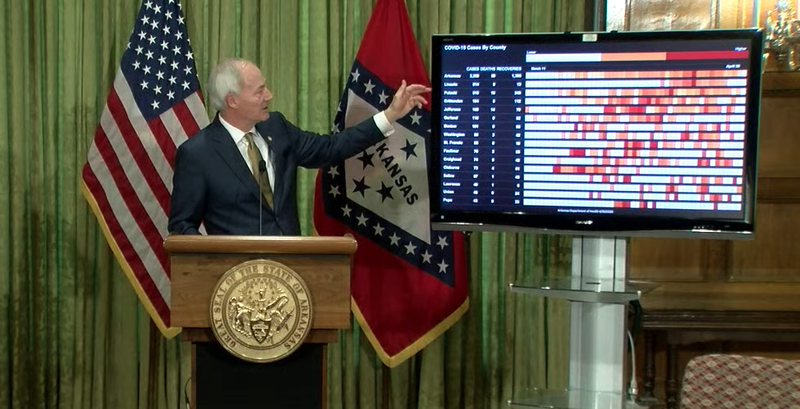 Gov. Asa Hutchinson speaks to reporters Thursday in Little Rock in this screen grab of video provided by the governor's office.
Gyms and athletic clubs can reopen May 4, Gov. Asa Hutchinson announced Thursday, but the facilities must adhere to new sanitation and social distancing standards.
Among the requirements for gyms and athletic clubs are spacing patrons 12 feet apart, ensuring employees and patrons wear cloth masks except while actively exercising, making hand sanitizer available and sanitizing equipment between each use.
Use of showers, pools, spas and saunas is still banned under the requirements.
Facilities must also screen employees and patrons. Anyone with covid-19 symptoms or recent contact with a covid-19 patient is to be denied entry under the restrictions, as are those who have recently traveled to New York, New Jersey, Connecticut, New Orleans or overseas.
Gyms are also mandated to refuse entry to anyone with a compromised immune system or chronic illness and to take the temperatures of staff.
Of the total active covid-19 cases, Department of Health Secretary Dr. Nate Smith said 95 patients are hospitalized including 23 on ventilators.
Smith said no new cases were reported from the Cummins Unit state prison, though two more inmates have been hospitalized for a total of 13. Three are on ventilators.
Additional cases were reported at the federal prison in Forrest City, for a total of 101 inmates, Smith said.
Arkansas restaurants allowed to have patrons dine in starting May 11; virus deaths rise to 59
Virus deaths tick up to 49 in state; high school graduations delayed through July 1
State to lift elective-surgery ban; more decisions coming soon on virus rules, governor says.
STATE GRANT PROGRAM
Opening the application website for a new Arkansas business grant program Wednesday was premature, Gov. Asa Hutchinson said Thursday, but he said the opening provided insight into how many businesses are clamoring for help.
The program is intended to give grants to businesses to help offset the costs of reopening amid the pandemic. Funds can be used for items such as personal protective equipment or cleaning supplies.
Hutchinson announced the proposal for the program Wednesday during his daily covid-19 briefing. He said funding still needed to be approved by the Arkansas Coronavirus Aid, Relief and Economic Security Act steering committee, or Arkansas CARES Act steering committee, as well as the state legislative council.
However, the application website went live Wednesday before the funding was approved, and Hutchinson said that was a failure in communication. In the time it was online — less than an hour, according to the governor — more than 2,300 businesses applied, seeking a total of more than $36 million.
The program was only planned to have $15 million to distribute. Hutchinson said that number will be revisited, and when the funding is finalized and approved, he expects the website will reopen for applications.
Sponsor Content