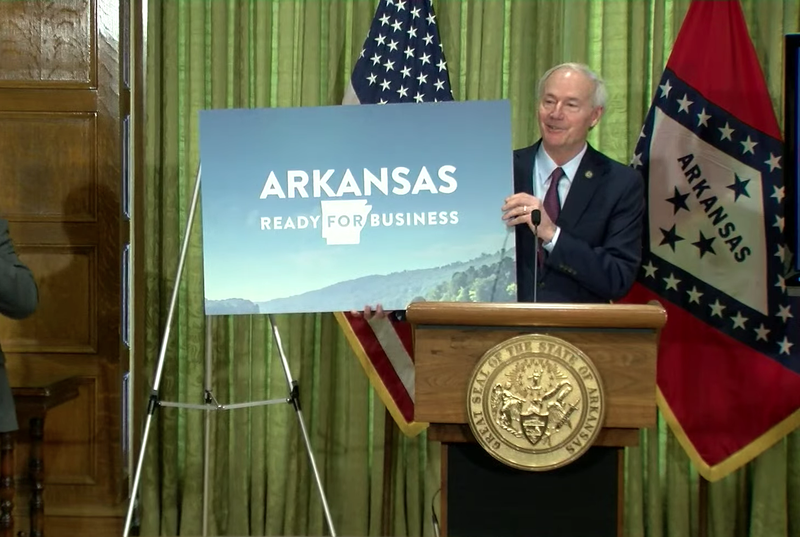 Gov. Asa Hutchinson holds an Arkansas Ready for Business sign during a Wednesday, April 29, briefing in Little Rock. (Photo courtesy Arkansas Governor's Office)
Gov. Asa Hutchinson announced Wednesday that restaurants in Arkansas can begin reopening for dine-in service on May 11, with the caveat that businesses follow newly-released seating restrictions and sanitation standards.
The announcement comes as new coronavirus cases and hospitalizations continue to trend downward in the state. The virus' peak average day of new cases was April 25.
Dining in at restaurants was ordered closed by the governor on March 20, but curb-side and delivery services have remained open. Once in-person dining is able to resume next month, seating capacities will be limited to only 33%, and parties greater than 10 will not be allowed. Patrons and tables will also have to be seated apart from one another.
The limitations are part of the Governor's Phase I of restaurant reopening. The rules direct employers to conduct daily staff screenings, and orders restaurant workers to wear gloves and face coverings, as well as frequent hand washing and disinfecting tables and menus after each meal. Patrons will also be required to have face coverings until their orders are placed.
Reservations, senior hours, and pre-orders are encouraged by the state. Self-service dining, such as salad bars, will not be allowed. Bars and entertainment within restaurants are also prohibited, but alcohol will still be able to be served. Traditional bars will remain shuttered.
But with only a third occupancy allowed, many restaurants will still be hurting financially. The governor said on Wednesday, "we recognize this, but that's where we need to start at this particular time."
If virus rates continue to decline, Hutchinson said Phase II of restaurant reopening will be implemented, which would allow for 66% occupancy, while still maintaining distance. He did not give a target date for the second phase. Phase III, whenever that may occur, would open restaurants to full capacity.
"Success brings success," said the governor. "If we can this limited opening of our dine-in restaurants on May 11, and if we're successful in following the guidelines and we protect the safety, then we're going to be able to go on to more normal operations."
To aid restaurants and small businesses in reopening efforts, the governor on Wednesday announced a $15 million grant program called Arkansas Ready for Business. The program is designed to not only assist companies but also build consumer confidence.
"As you invest in safety and health, the consumers will have confidence, and say, 'yes, this is someplace good to go, we're confident in the health precautions there."
The grant program will include the following conditions:
$1,000 per company, up to $100,000. E
Eligible expenses include PPE, hand sanitizer stations, cleaning supplies and services, and other one-time expenses to enable a business to reopen or resume normal operations.
All industry sectors are eligible
Employee headcount and eligible expenses backdated to March 1, 2020.
Grant applications will be processed at www.ArkansasEDC.com/COVID19.
The grant program, according to Hutchinson, is subject to approval from the state's CARES ACT steering group and members of the Arkansas Legislative Council.
"We hope this will be online soon and approved," Hutchinson added.
also encourages reservations and
Sponsor Content