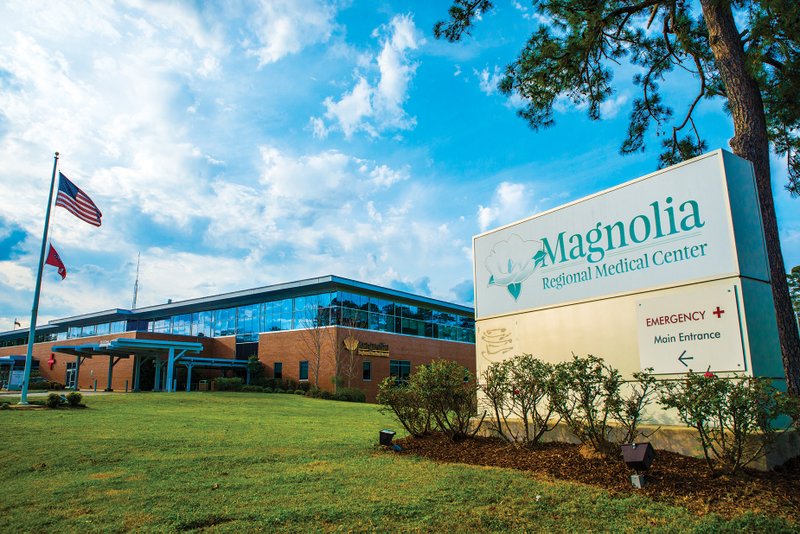 Magnolia Regional Medical Center. - Photo by J.D. Bailey
After being shut out of the first round of federal Paycheck Protection Program (PPP) funding due to a technicality disallowing government-associated hospitals to receive aid, Magnolia Regional Medical Center on Monday was approved for a $2.3 million forgivable SBA loan as part of the U.S. government's second wave of small business and hospital relief.
MRMC, with a push from of Arkansas Sen. Bruce Maloch, as well as U.S. Rep. Bruce Westerman and U.S. Sen. Tom Cotton, as well as help from Farmers Bank & Trust, was one of the first loans to be processed and accepted this week.
"They really rallied for us to get that pushed through and to allow governmental hospitals to be allowed to participate in that," said Roxanne Stewart, chief financial officer at MRMC. "That window of opportunity was open, and everyone really worked hard to get everything in line and get that approved."
By being so early on the application process, MRMC's SBA loan was able to be processed just before the entire application system crashed on Monday morning.
"That is such a huge blessing for us," said Rex Jones, chief executive officer at MRMC. "We were quite depressed when we found out we weren't going to qualify originally. … But Farmers [Bank] got us in at the very first, and we were able to be approved."
The funds come at a much-needed time for MRMC. Without the $2.3 million, the hospital's cash-on-hand would have nearly run dry by September's end, according to MRMC projections.
The hospital has also received aid funding from the CARES (Coronavirus Aid, Relief, and Economic Security) Act that was passed by Congress and signed into law by President Donald Trump on March 27. As part of the $2.2 trillion economic relief package, MRMC has already received a $526,000 public health and social services emergency relief grant. The second round of grant funding is on the way, according to Stewart. The amount is expected to be $300,000-$500,000. The hospital is also expected to receive an additional $1 million from the CARES act, based on MRMC's cost reports.
"That's separate [from the PPP funds]," Stewart added. "That's nothing that we've applied for, it's just COVID funding that has been awarded to us as a rural hospital."
The state of Arkansas is pitching in to help Magnolia Regional Medical Center and other rural hospitals as well. Jones stated Monday that MRMC has been awarded a $490,000 economic block grant that was part of federal funds passed down to the states for dispersement. Magnolia's hospital was on the top-end of the grant amounts awarded. The funds can be used for utilities and operational expenses, according to the CEO.
"There are some monies that are out there tied to [virus] positives and taking care of positive patients, but we were awarded this because we are a small rural hospital and they recognize the dire straights we're in," he said.
MRMC has not been overwhelmed by coronavirus cases. In Columbia County on Monday, there were only six confirmed cases and no deaths reported, according to figures compiled by the New York Times from state and local health agencies and hospitals. The state as a whole had only reported 50 deaths on Monday, and most of the cases are confined in a handful of counties in central Arkansas. Some counties, such as nearby Nevada County, have seen almost no cases at all -- only 1 positive test confirmed, as of this week.
There have not been any reports of cases treated at Magnolia Regional Medical Center, but the impact of large-scale government-mandated shutdowns and public fears have crashed outpatient, elective, and clinical visits to the point that MRMC earlier this month was required to furlough more than dozen employees -- most of which held clerical positions.
For March, when the virus first began impacting business, MRMC experienced a net loss of $309,00 and a negative monthly EBIDA (Earnings Before Interest, Depreciation, and Amortization) of $163,000. Inpatient numbers in March were not really affected. ER visits equaled 721, and outpatient visits across all locations totaled 1,799. And although the inpatient numbers are projected to remain steady, according to MRMC figures, outpatient and emergency room numbers are expected to dive even further.
"Our outpatient volume was just way down," said Jones.
April is projected to see 425 ER visits (down 41% from March), while outpatient services are estimated at 1,369 (down 24% from March). The outpatient trend, according to MRMC's projections, is not expected to climb over 1,700 visits again until September.
But with all of the cash-inflow from aid monies coming in, the end-of-September operating cash is expected to hold throughout the rest of the fiscal year at more than $2 million over April's expected numbers.
COMMUNITY SUPPORT
The administration at MRMC has been amazed by the overwhelming support the community has shown for the hospital. Multiple times per week, the facility has been contacted on how to drop off items, and snack baskets and meals have been delivered to the workers. The SAU engineering department on Monday even provided over 100 face shields that were made for the hospital.
"We're just excited," said Stephanie Schmittou, chief nursing officer at MRMC. "Everybody is in this together and it has really been shown how strong our community is supported."
Jones added that local companies such as Southern Aluminum and CMC Steel have approached MRMC asking to help in any way. Two thousand cloth masks were also sent from Mayo Furniture in Texarkana to outfit everyone and anyone at MRMC.
"Your faith in fellow man is renewed when you see things like that," Jones added.
In other MRMC news:
• The hospital's 501(c)(3) application to transition from a government-associated entity into a nonprofit medical center has been submitted to the IRS. The process is being aided by U.S. Rep. Bruce Westerman to help expedite the application return. The new status could be returned in 60 to 90 days, according to Jones. MRMC already has a new tax-ID number.
"Everything is in place now," said Jones. "It's just going to be a waiting game now to see if Congressman Westerman can work some magic in D.C."
• MRMC has been limiting visitations to one person, but the rules could be augmented for family members during an end-of-life situation.
• MRMC has hired a new physician of general surgery. Dr. Anselm Tintinu is expected to be in Magnolia this weekend and has already received a temporary Arkansas medical license.
• A color change has been made to MRMC's logo. It will feature blue now, as well as its traditional green and gold.
NEW LOGO:

Sponsor Content