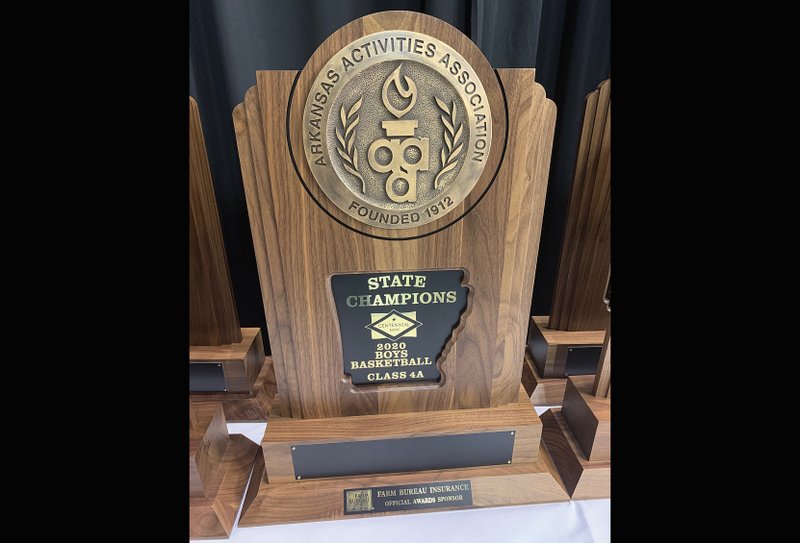 - Photo by Chris Gilliam
Without playing a championship game, the Magnolia Panthers can say they successfully defended their Class 4A state title.
Moments after Arkansas Gov. Asa Hutchinson announced Monday that schools in the state would remain closed throughout the academic year, the Arkansas Activities Association said both teams that were scheduled to play in the finals would be recognized as state champions.
"Under the circumstances, I am extremely happy for our kids even though they didn't get a chance to play that game," said first-year Magnolia head coach Ben Lindsey. "It was the only play the AAA was left with and I'm satisfied with their decision."
On Friday, March 13, Magnolia and Little Rock Mills were set to play a rematch title game in Hot Springs. The Panthers defeated the Comets in overtime a year ago to claim their first state basketball crown in more than 20 years.
After a pair of games the day before, the Arkansas Activities Association (because of the coronavirus) decided to cancel all remaining state basketball championship games. It said boys and girls teams who qualified for the finals in class 3A, 4A, 5A, and 6A will all be named 2020 State Basketball Champions.
The other 2020 boys champions include Class 6A – Little Rock Central and Conway; Class 5A – Memphis and Jacksonville; and Class 3A – Rivercrest and Osceola.
On the girls' side, champions are Class 6A – Bentonville and Fayetteville; Class 5A – Nettleton and Greenwood; and Class 4A– Farmington and Star City; and Class 3A – Mountain View and Valley Springs.
The AAA said plans are being developed to honor and formally recognize the students and teams who qualified in these championship games.
"It is with great disappointment that we announce the decision to cancel the remaining state basketball championship games," said Lance Taylor, AAA Executive Director. "We certainly sympathize with these students, coaches, and fans who are being impacted, but the health and safety of the students we serve is our top priority."
The news release said, "The AAA strongly supports Governor Hutchinson, Secretary of Education Johnny Key, and Secretary of Health Dr. Nate Smith in their efforts during the COVID-19 pandemic."
Taylor added, "We are extremely fortunate in Arkansas to have these exemplary leaders providing guidance and care to all Arkansans. We must all come together to stop the spread. As we navigate through these difficult times we need to remember the lessons that interscholastic activities have taught us: cooperation, patience, sacrifice, responsibility, respect and being a team player. The AAA Board of Directors and staff will provide more information on all spring activities at a later date."
According to Lindsey, this is a tough time for everyone, but he's extremely happy for his team, school and community.
"It just continues the tradition of Magnolia basketball. Personally, it's been a blessing for me and my family," said the coach.
His father, Marvin Lindsey Jr. won a state title during his first year as head coach of the Panthers in 1997.
Now, 23 years later, his son wins one during his first season.
"That's pretty ironic," said Ben.
With coronavirus, Lindsey said it's tough not being able to have personal contact with his players.
"This is everyone's normal right now. It's new territory for everyone. But I have been able to have a Zoom (video conference) with most of the players. We talked about a few things and even the possibility of not playing this game," he explained. "We didn't know it was coming."
The coach noted he will continue to stay in touch with players through video chat and text as much as possible.
"But this goes beyond basketball right now. It's more than just getting better and worrying about next season," said the coach.
He said the main thing right now is about family, being together and staying safe.
The coach agreed that not being able to celebrate a state championship with the kids on the court was tough.
"To me, the saddest part about this whole deal is they didn't get their moment on the floor to celebrate. Right now, I guess they are celebrating simply by looking at their phones," said Lindsey.
The coach said when it's safe for everyone to be together, every effort will be made to get the team and those involved together.
Lindsey said his heart also goes out to his seniors and all seniors around the country.
"I have at least three seniors who were looking forward to spring sports.
Braelyn Beasley, Jessie Scarber and Kyle Carver all excelled for us on the court and they were looking to be even better in their other sports.
"A kid like Jessie had a chance to win another state championship in track. He will never get that opportunity back and Kyle won't get his senior baseball season back. He's going on to play college baseball," said Lindsey.
"You see, 90 to 95 percent of high school athletes are statistically better during their senior year. These guys were certainly that way for us in basketball. That doesn't include the fun and excitement they have with their teammates playing sport," added Lindsey.
According to the coach, Braelyn and Kyle had their best years as senior basletball players.
"You figure Jessie would've been better in track and Kyle better in baseball," he said. "They are not going to get this back. I hate it for them."
The coach said his heart goes out not just to his kids, but to all students everywhere.
Admitting he got the opportunity to experience prom, graduation and other things, "These kids may not."
"That's tough thing when you work so hard for something and you don't get to do it. I have faith that these kids will be rewarded for this somewhere down the road. It may be 5, 10, 15 or 20 years from now, but I believe that God will reward them in some form or fashion," said Lindsey.
Sponsor Content