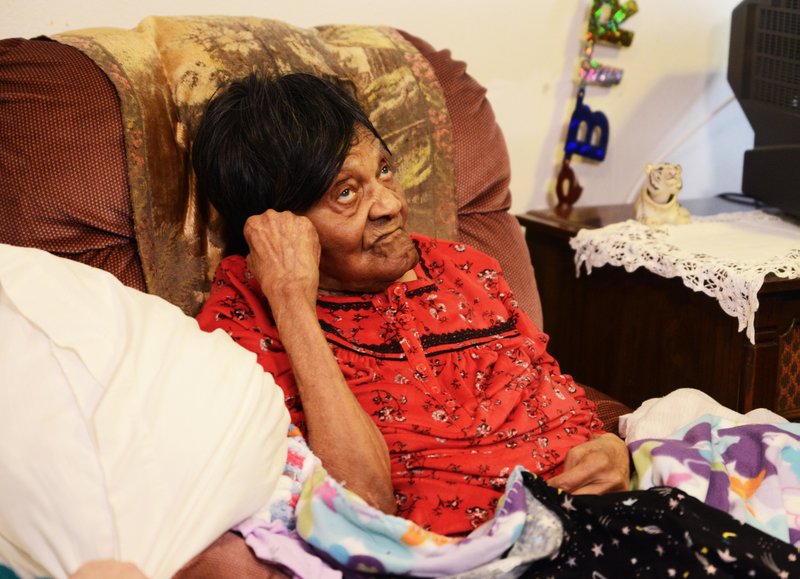 Edna Runyan, who passed away Monday at 112, is pictured on Jan. 25, 2019, during her 111th birthday celebration in Magnolia. The supercentenarian was born near Willisville, lived in Magnolia most of her life and was believed to be the oldest living person in Arkansas. - Photo by J.D. Bailey
A Magnolia woman thought to have been the oldest Arkansas resident and one of the oldest people in the world has passed away at 112.
Edna Runyan, born Jan. 25, 1908, near Willisville died Monday at her Magnolia home. The supercentenarian was the 21st eldest living American, according to the Gerontology Research Group, an online organization that tracks the world's oldest humans and served as a consultant for Guinness World Records.
Runyan's passing comes just over two months after her 112th birthday. She was technically the second-oldest living native Arkansan behind 113-year-old Minnie Whicker, but Whicker is no longer a Natural State resident and lives in California, according to the GRG.
Runyan, known by family members as "Big Momma" spent most of her life in Magnolia, having moved from the Willisville area of her both over 80 years ago. She was the mother of eight children and worked as a housekeeper and cook well into her 90s. Her family says that "Big Momma" was healthy, spry, and lived on her own until she was 105,
"She kind of raised us by herself because she and my dad separated when I was a small girl," said Alice McKeller, Runyan's 83-year-old daughter who helped care of her mother in recent years. "She did a good job. She kept us all together."
All of Runyan's children were two years apart in age. Her surviving sons and daughters include McKeller, as well as Elsie Mae Snell, the oldest, at 87, Geneva Wyrick at 85, and Matt Dean Runyan, the baby of the group, at 78. Runyan, even well past 110, was never entered into a nursing home or retirement facility and lived out her final years in her corner Apartment bedroom in Magnolia.
"She was just the epitome of strength," said Sandra McKeller Smith, Runyan's granddaughter who now resides in California. "We all spent time with her and she made us understand what it meant to be strong and responsible."
Smith recalled how she and many other grandkids spent many nights with their grandmother as youngsters and how Runyan was well-known for her early morning wake-up calls and military-style dawn routine.
"She would have us up at 5 o'clock in the morning, and she would have us make the bed up as soon our feet hit the floor," said Smith. "She was instilling organization and strength in us, but we didn't even know it at the time."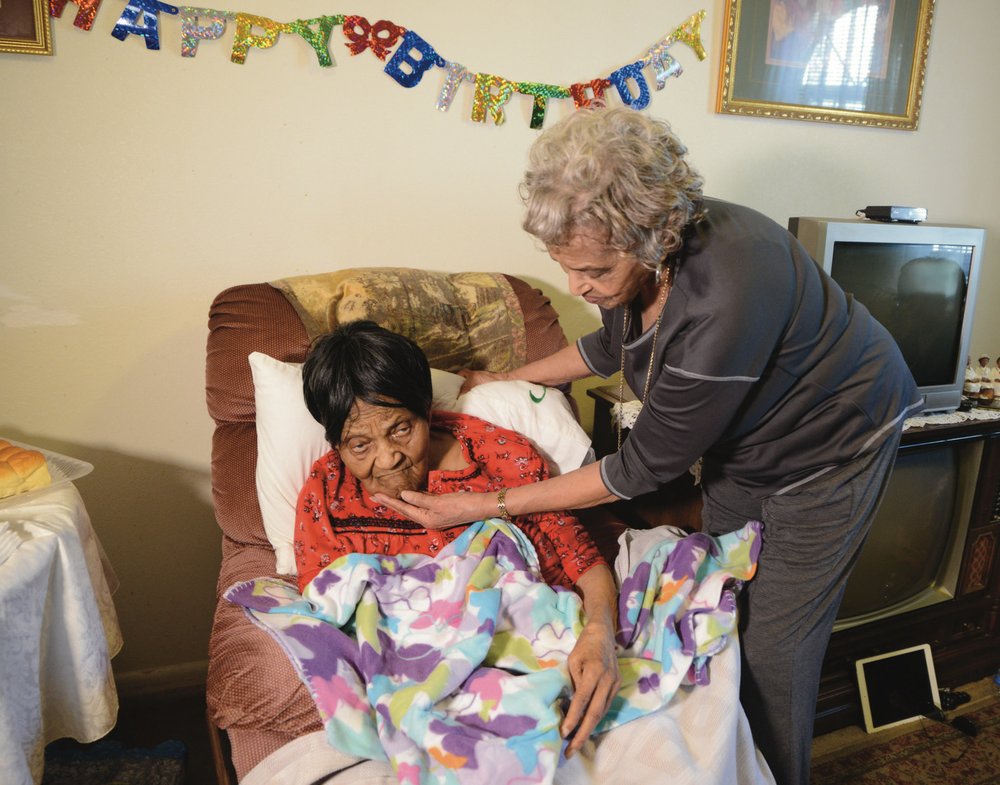 Alice McKeller (right), 82, talks with her mother, Edna Runyan, during her 111th birthday celebration on Jan. 25, 2019, in Magnolia.
Runyan's working career was a long one. She was a domestic caretaker for Larry and Jane Burrow of Magnolia, retiring only around 20 years ago. Her cooking skills were noted by her family, especially her famous homemade rolls.
"We would look forward every Christmas to those homemade rolls," said Smith. "I have the recipe, but they don't taste like hers."
Runyan only slowed down in the last few years, after a full hip replacement well past 100. Until then, she had lived on her own.
"She had a hip replacement at 105," said Smith. "I don't even think she had to have a lot of medicine afterward. She came home and was barely taking Tylenol. That's how strong she was."
When asked what Runyan's secret was for extreme longevity and health, McKeller said that her mother always consumed her fair share of vegetables.
"She loved collard greens," said McKeller. "She probably cooked them almost every day. She just loved all kinds of vegetables."
Runyan also never owned a car, walked everywhere, and did not let stress get the better of her.
"She told someone once at a family gathering, 'I just never worried about anything,'" recalled Smith. "She said, 'I just put in God's hands and he kept me here.'"
Funeral arrangements for Runyan were first announced Monday through R.L. Reed Funeral Home of Magnolia, but no service time had been slated, as of Tuesday morning. The funeral will likely be a small, graveside gathering of family, due to ongoing coronavirus measures and separation orders on groups over 10 people.
The situation has saddened the family that they will not be able to have a proper goodbye service for the 112-year-old who saw six generations, but they understand why the measures are in place.
"She deserves a big service, but we're just grateful she lived a nice, blessed life for far more years than the average person will ever get to see," said Smith. "We're just grateful we were able to have her for that long."
Sponsor Content