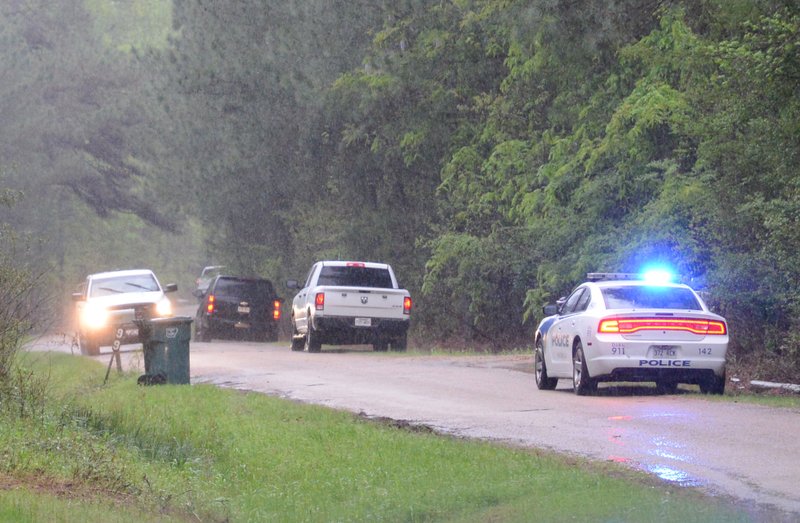 Police cars line the road near a mobile home at 105 Columbia Rd. 295 after a March 30 shooting near Magnolia. - Photo by J.D. Bailey
Columbia County Sheriff Mike Loe stated this week that no arrest has been made in the Monday, March 30, shooting incident at 105 Columbia Rd. 295 that left a Magnolia man, 33-year-old Joseph Michael Waters, dead.
The alleged defendant in the case, identified late Monday as Daniel Bryan Bailey Jr., was questioned for hours after the March 30 incident but was never formally arrested or charged by the Columbia County Sheriff's Office, according to Loe. Columbia County Detention Center inmate records also show that Bailey was never booked into the county jail.
The case file has now been handed over to the Columbia County Prosecutor's office for review, according to the Sheriff. Any state criminal charges will be announced through the local law office.
Loe would not issue any other details on the matter Thursday, stating only that the victim's body went for an autopsy.
The shooting occurred Monday around 5:09 p.m. at Bailey's Columbia Rd. 295 home. The address is located near Village, roughly 1 mile south of Hwy. 82 in a secluded corner of rural road. A mobile home sits at the location of the incident but is surrounded partially by trees and two other nearby homes.
The funeral for Waters was scheduled for Friday, April 3. The ceremony will be graveside and attended only by family members, according to an obituary issued by Lewis Funeral Home of Magnolia.
Sponsor Content