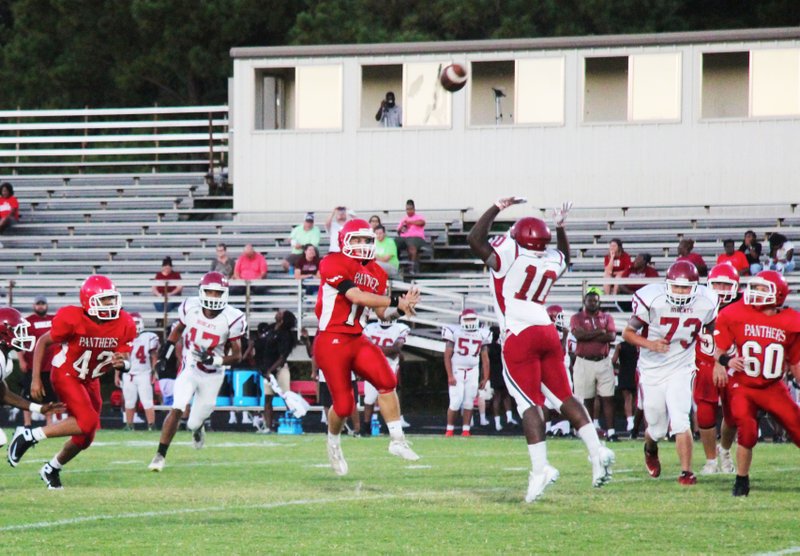 Quarterback Dalen Blanchard gets the ball over the hands of a defender. - Photo by Chris Gilliam
Quarterback Dalen Blanchard threw for two touchdowns and ran for another to lead the unbeaten Magnolia freshmen Cubs (4-0) to 42-20 win over Texarkana Thursday night at Panther Stadium. The 8th grade Cubs (3-1) held on for an 8-0 victory over North Heights.
The local junior high teams will be on the road next week when they travel to Hot Springs Lakeside. Their final home game will be Oct. 10 against Camden Fairview, before back-to-back road games at Hot Hot Springs Oct. 17 and De Queen Oct. 31.
Against Texarkana, freshman Taahir Banks returned the opening kickoff 60 yards to the 14. Blanchard scored four plays later and Blake Barker's PAT made it an early 7-0 ballgame. Barker connected on all of his PATs during the game.
Garrion Curry returned the game's first punt 40 yards. Two plays later, Blanchard hooked up with Jacob Hebert on a 12-yard scoring pass to make it 14-0 early in the second period. Midway through the quarter, the Cubs stretched the lead to 21-0 on a 9-yard TD run by Curry.
North Heights got on the board off a 2-yard TD run with 1:28 on the clock. The two-point attempt failed.
With less than a minute to play in the first half, Blanchard and Curry connected on a 56-yard touchdown pass to make it 28-6.
Early in the third, Curry returned a punt 55 yards for a score to make it 35-6. The visitors answered with a 4-yard TD run and two-point conversion to make it 35-14.
A Texarkana interception late in the third quarter that was returned 45 yards for a score narrowed the margin to 35-20.
Magnolia's Ryder Jackson later came up with a fumble and Chase Carter burst up the middle for a 28-yard score to make the final margin 42-20.
The 8th grade game was scoreless in the first half, but Magnolia did come up with a fumble recovery and interception. The Cubs also intercepted a pass late in the fourth period.
Late in the third quarter, Malla-ki Ross scored on an 8-yard run. A two-point pass from Baker Allhands to Ross made it 8-0.
Allhands and Dakota Dismuke had interceptions.
Sponsor Content