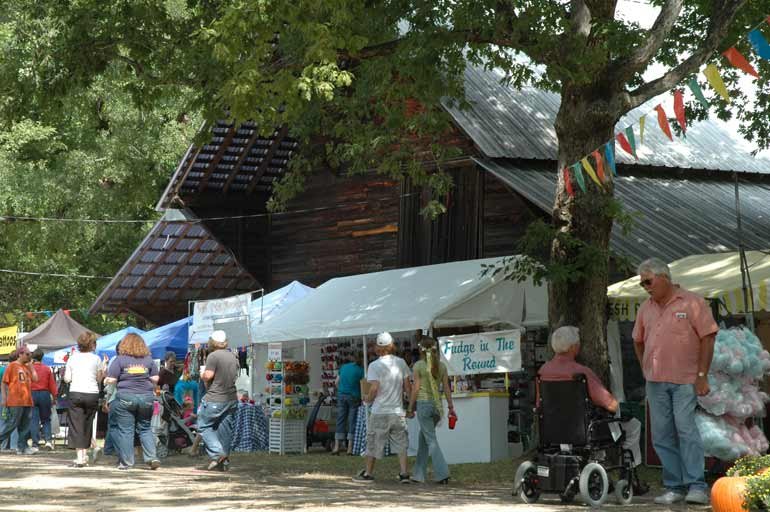 The Camden Barn Sale takes place today, 9 a.m.-4:30 p.m., in Camden near Oakland and Monticello Streets.
South Arkansas' largest arts and crafts show, the 51st Annual Camden Barn Sale, will take place from 9 a.m. to 4:30 p.m. Saturday in Camden. (Oakland St. & Monticello St. Camden, AR. 71701)
The Barn Sale has grown to include over 130 vendor and artist booths. They feature traditional crafts and contemporary styles. The sale location is set amid large oak trees near a historic barn site.
Expect to find handcrafted wooden pieces, ceramics, paintings, floral arrangements, handmade clothing, jewelry, stained glass, one-of-a-kind toys, and much more in a Southern plantation setting.
There will also be foods from vendors from all over the South. Musical entertainment takes place throughout the day with individual performances by the artists themselves at their vendor booths. Families are welcome, with an antique and classic car show, Kids Zone with inflatables, and festival traditions including the St. Louis Catholic Church Spaghetti Supper and more.
Sponsors include the event's title sponsor: the Camden Area Chamber of Commerce, Lockheed Martin, Bob and Amanda Wunnenberg, and SAU Tech.
Shuttle Information:
The shuttles run continuously from 9 am 4:30 pm between the free parking areas and Barn Sale and from 9 am to 3 pm between parking lots and the Antique and Classic Car Show and the Camden Fairview High School on Cash Road.
Ouachita Enrichment Centers will provide shuttle buses. The cost to ride is five dollars per person for the day. Shuttle sop banners indicate each shuttle stop.
Free parking is available in each parking lot of both churches.
Shuttle pick up points are:
• Barn Sale entrance at the corner of Oakland and Monticello
• Antique and Classic Car Show at the Cullendal Assembly of God Church on Cash Road.
• Fairview United Methodist Church at 2603 Mt. Holly Road
• Oasis church West parking lot at Mt. Holly Road and Tate Street.
Additionally, the City of Camden has designated the following streets one-way to facilitate traffic around the Barn Sale
• Monticello Street; one way East from Cash Road to Warren Street
• Peebles" one way from Fairvew Round North to Monticello
• Oakland: one way from Monticello South to Fairview Road.
Note: Some information in this article was contributed by the Camden News.
Sponsor Content