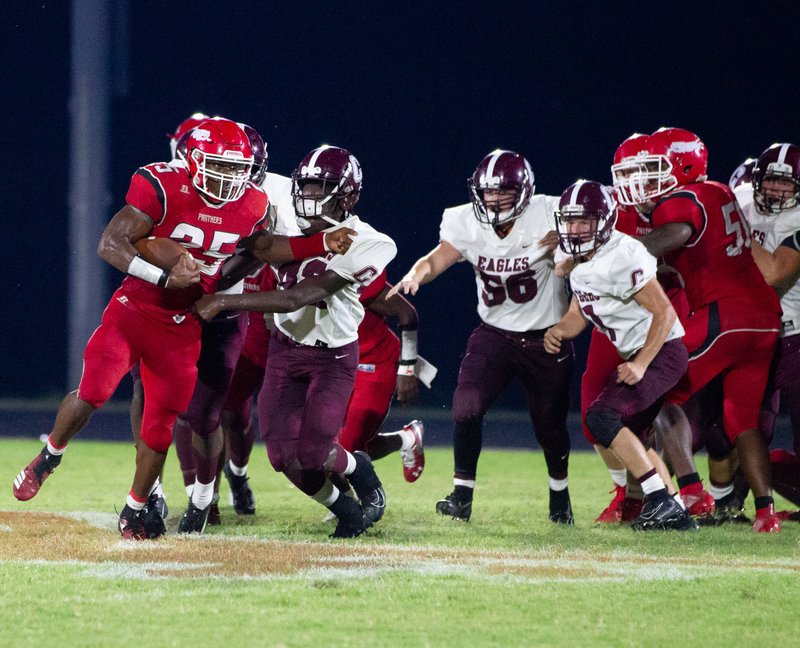 Magnolia RB DeMarco Walker (25) fends off tacklers late in the game against Crossett Friday night in the Panthers 36-30 come-from-behind win. - Photo by Bill Nielsen
Though it was somewhat stressful, Magnolia head coach Mark King got his first Panther win Friday night when the team rallied in the fourth quarter to beat Crossett 36-30.
Trailing 30-21 with just over two minute to play, the Panthers managed to get back-to-back touchdowns to win the game. In fact, Magnolia scored three of the last four touchdowns to claim the victory.
"Our kids were resilient. I work the devil out of them and they made me proud," said King. "They never gave up, even when we got down two scores late."
King said the Panthers found a way to win and got a huge break at the end. Sophomore Kendrick Carey scooped up a late fumble and senior quarterback Braelyn Beasley scored the winning touchdown with seconds to play.
Despite taking an early 7-0 lead in the first period, the Panthers had trouble stopping the Eagles all night. Crossett closed the gap to 7-6 early in the second period on an 8-yard TD run and went up 12-7 midway through the period following a 26-yard pass play. The two-point attempt failed each time.
First-year head coach Mark King addresses his Panthers. He got his first Magnolia win Friday night with a dramatic 36-30 come-from-behind win over Crossett at Panther Stadium.
The visitors, following another failed two-point conversion, led 18-7 with three minutes left in the first half. The Panthers, behind a 24-yard pass play from Beasley to Amir Cooper, regained the lead and were up 18-14 with under a minute on the clock. Crossett struck again, with 13.4 ticks showing, to make it 24-14 at half-time.
Both teams traded fumbles in the third period, but the Panthers closed the gap to 24-21 with 8:44 left in the final quarter. Receiver Sid Hampton caught a reflected pass for a 20-yard TD. With 2:33 remaining, Crossett stretched its lead to nine before the rally began.
"We missed a couple of wide-open pass plays in the first half that would have been touchdowns. Crossett didn't make the adjustments in the second half and we were able to take advantage of it," said King.
The Magnolia coach said he's trying to instill in his players to work hard, play for each other and play for four quarters.
"Anything can happen when you do that. Anyone who left early missed a good ending. Like I said, I'm proud of these guys for not quitting and that's what it is going to take all season," added King.
Magnolia will be home Friday facing it third straight 4A-8 Conference opponent in the Monticello Billies. Kickoff is at 7 p.m.
Sponsor Content