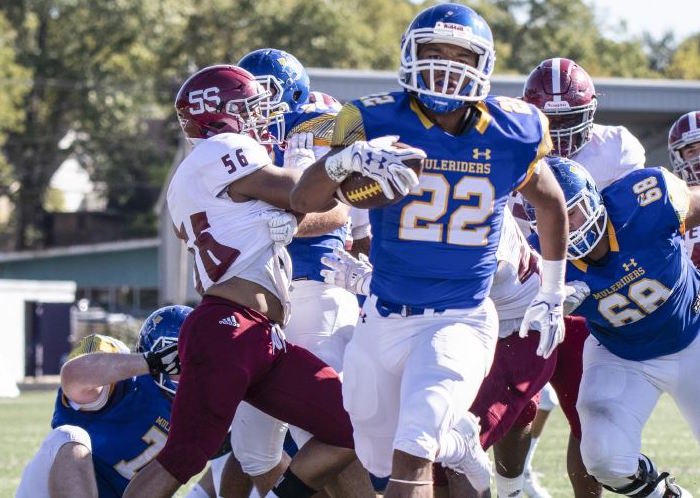 A 2018 SAU photo shows SirCharles Perkins (22) blasting through a pile of players on his way to a touchdown. The senior on Thursday rushed for 103 yards and scored two TDs on the Muleriders win over Southern Nazarene in their opening game of the 2019 season. - Photo by SAU Sports Information
BETHANY, Okla. – SAU senior SirCharles Perkins scored a pair of touchdown and rushed for 103 yards as the Muleriders (1-0, 1-0) knocked off Southern Nazarene 34-14 in Bethany, Okla., Thursday night. Teammate Kor'Davion Washington, in his first collegiate action as a redshirt freshman, had a team-high 16 carries for 109 yards.
The Muleriders rushed for 323 yards and held the Crimsom Storm ground game to just 18 yards. SAU totaled 416 yards, while Southern Nazarene managed just 130 total yards of offense.
SAU raced out to a 31-7 half-time lead and never looked back. In his first career start, junior quarterback Hayden Mallory was an efficient 9-of-15 passing for 86 yards and a touchdown; an impressive 39-yard strike to redshirt senior Jared Lancaster late in the first half that put the Muleriders in control up 31-7.
Sophomore place kicker Austin Wilkerson had two field goals that covered 29 and 35 yards.
Defensively, senior Lorenzo Watkins recorded six tackles, including two for loss that totaled 16 yards. Five other Muleriders posted at least three stops. After gaining 18 rushing yards in the first quarter, Southern Nazarene would not gain another yard rushing against the Mulerider front seven over the next three quarters.
Southern Arkansas improved to 8-0 all-time against Southern Nazarene and to 6-5 in season openers under head coach Bill Keopple.
The Muleriders prepare for Oklahoma Baptist on Saturday, September 14, from Wilkins Stadium. They will carry a 16-game home winning streak (NCAA Division II football's longest such active streak) into the home opener.
The last home loss for SAU came in a Week 3 defeat to Harding in 2015. Last season, the Muleriders and Oklahoma Baptist Bison combined for 100 points and 1,165 total yards in a thriller that ended with SAU surviving 55-45.
Sponsor Content