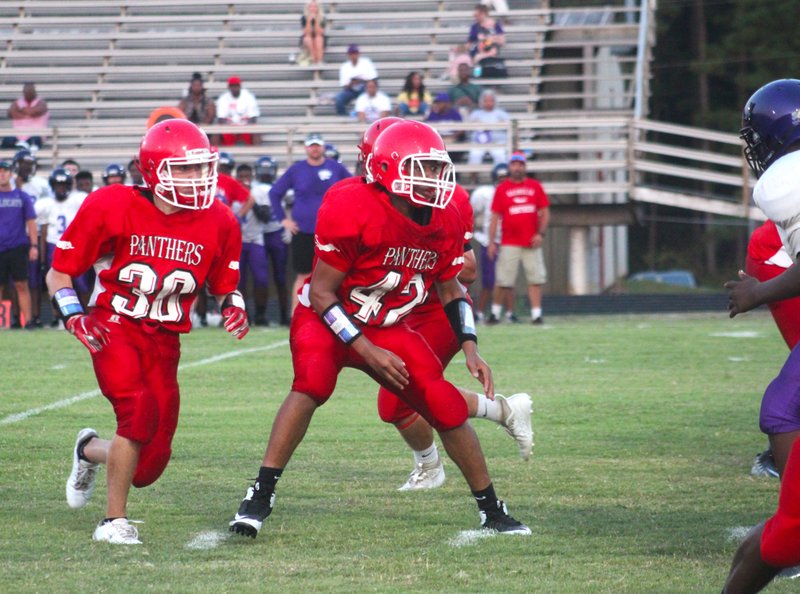 Magnolia freshman Jase Carter (42) and Jacob Hebert (30) provide protection for quarterback Dalen Blanchard during the Cubs victory over El Dorado Thursday. The Cubs will travel to Nashville next week to battle the Scrappers. - Photo by Chris Gilliam
Magnolia's freshman Panthers scored 27 first-quarter points and cruised to a 47-29 season-opening victory over El Dorado at Panther Stadium Thursday night. Garrion Curry led the way four touchdowns and nearly 200 yards rushing, scoring from 6, 20, 53 and 65 yards out.
The Panthers (1-0) will return to action next week at Nashville when they square off against the Scrappers Thursday night. Magnolia's 8th grade Cubs fell 28-0 in their opener against El Dorado.
It was a fast start to the freshman game, with both teams scoring on their first offensive snap. Curry broke loose for 65 yards and Blake Barker added the PAT to make it 7-0. The Wildcats responded with a 57-yard touchdown pass that tied the contest at 7-7. Magnolia then reeled off 20 unanswered points, starting with a 6-yard run by Curry following a 31-yard spurt by Jacob Hebert.
After a big hit on the El Dorado quarterback, defensive lineman Hunter Buford scooped up a fumble and raced 66 yards to make it 21-7. Barker came up with an interception, but the Panthers were forced to punt. Later, Hebert caught a 17-yard TD pass from Blanchard, making it 27-7.
Both teams scored once in the second period. The Wildcats got in on a 1-yard sneak and Curry crossed the goal line from the 20, making the half-time score 33-14.
El Dorado closed the gap to 33-21 on a 14-yard TD pass late in the third. Curry had a 53-yard TD run to make it 40-21 and a 66-yard TD pass play by the Wildcats made it 40-29. The Panthers' final score came with 4:25 to play.
Sponsor Content