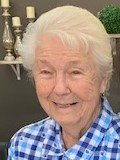 Bettie Joe Adkins Shackelford, 87, of Waldo passed away Friday, October 4, 2019 at the Magnolia Regional Medical Center in Magnolia.
Bettie was born December 1, 1931, in Magnolia to the late Elva and Elmer (Barge) Adkins. She was a faithful member of the Shiloh Baptist Church and a member of the WMA. She loved to cook, knit, play Chinese checkers, and tell lots of stories. The loves of her life were her precious family and her precious cat "Lucky."
She was preceded in death by her parents; husband of 68 years Cecil "Buddy" Cody Shackelford; son Dale Shackelford; daughters Carolyn Pedron, and Jan Shackelford; brothers Johnny Adkins and Elvie Adkins; and sister Mary Ann Shackelford. Bettie is survived by her son Bill Shackelford and wife Shelda of Waldo; son in law Pete Pedron and wife Patricia of Kirby; grandson Russell Pedron and wife Jennifer of Kirby; granddaughters Jaime Young and husband Shane of Glenwood and Jan Suit and husband Joe of Hot Springs, Karissa Shackelford and Danyel Shackelford of Waldo; great grandsons Gunner Pedron, Zane Pedron and Jeb Pedron of Kirby; great granddaughters Mia Young, Madeline Young, and Bella Young of Glenwood, and Lily Suit of Hot Springs; and sister Martha Wilson of Waldo; a host of nephews, nieces, cousins, and friends.
Funeral services were held on Sunday, October 6, 2019 at 2 p.m. at Lewis Chapel with Bro. Petie Ward and Bro. Miles Evans officiating. Burial will follow at Shiloh Cemetery under the direction of Lewis Funeral Home, Inc. in Magnolia. Visitation will be Saturday, October 5, from 6 to 8 p.m. at the funeral home.
Pallbearers were Buddy Watkins, Dr. Rollie Flaherty, Chris Braswell, Mike Potts, Scott McDonald, and Nathan Wilson.
To sign the online guest book or to share a memory visit www.lewisfuneralhome.biz
Sponsor Content