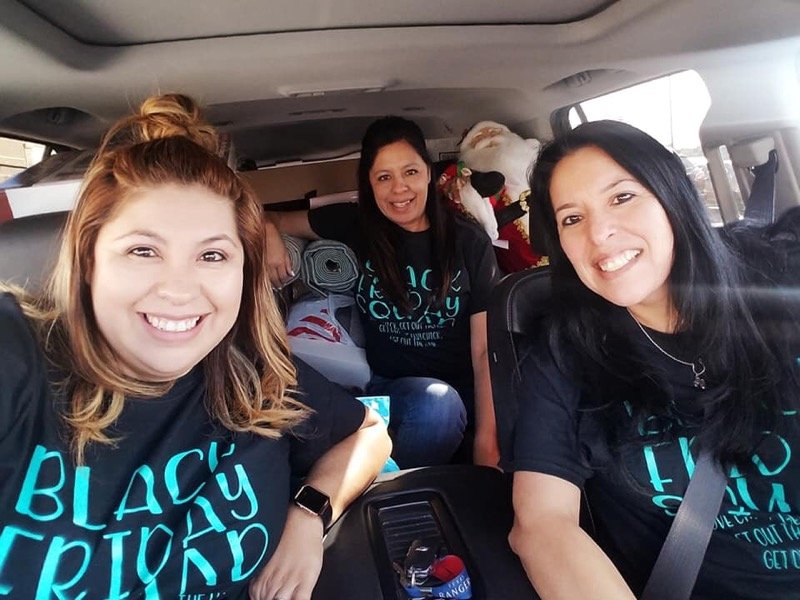 Black Friday is a holiday all its own for many shoppers, including Angela Collins (back) of Magnolia and her sisters Marie Hernandez (left) and April Arms. The trio even wore matching shirts during a recent day-after-Thanksgiving hunt for deals in Texas. - Photo by Submitted photo
Although it is still called Black Friday, shopping deals for the holidays now begin on Thanksgiving and die-hard shoppers are happy to begin a day early.
Reagan Hudnall of Magnolia now works in retail, so she is on the other side of the counter, but said she used to really enjoy the opportunity to find deals you could only find once a year.
"I like the deals, I'm a sucker for good deals," said Hudnall who works for the Perfects in Magnolia. "It was a lot of fun — exhilarating. There is nothing better than getting home and finding you got $500 worth of stuff for $100."
Angela Collins, who has lived in Magnolia for the past year and works at Southern Arkansas University, said she is glad her husband still agrees to take her to West Texas during the holidays so she can participate in the Black Friday shopping tradition with her two sisters.
Collins said the trio eats their Thanksgiving dinner, scours the sales ads and begins their shopping at 6 p.m. at Wal-Mart before heading back home to sleep some and then get up in the wee hours of the morning to drive an hour to Midland, Texas, and shop a multitude of stores. The sisters even get matching T-shirts each year to commemorate the event.
"For me it is more about making memories," Collins said. "There is a lot of laughing, lot of joking and it makes it feel like the hustle and bustle of Christmas is coming. There is something about Black Friday that is a tradition for us, and if we didn't do it we would feel like there is something wrong."
People do have to prepare for crazy incidents that surround the busiest shopping days of the year, though, and Collins and her sisters witnessed this one year when electronics such as Kindles and cameras were being taken back and thrown to people behind the table after the table was unwrapped at a Wal-Mart in Big Spring, Texas.
"People were chunking these things like they were clothes and this cop let out the loudest scream I have ever heard and pulled out his gun and said, 'everybody back!'" she recounted. "It was the craziest thing I have ever seen."
Photo by Submitted photo
Brooke Waller and Phyllis Skinner during an all-nighter Black Friday shopping trip in 2017.
Kristen Keith of Magnolia said she remembers being in the Magnolia Wal-Mart when a limited item was unwrapped at a certain time.
"When they opened the shrink wrap, it was a 'woosh' sound that I've never heard before and I've never heard again," she said. "It was fast and it was gone. People were standing around waiting for the shrink wrap to be cut."
Keith said one thing she recommends on Black Friday is to make friends with the people you are in line with so that if you have to get out of line to say, take a restroom break, they will make sure and hold your spot when you are away.
She said the checking out of the store was the hardest part when she went to Wal-Mart because the line was all the way back to the clothing.
Brook Waller of Emerson said she has been doing Black Friday shopping for the past 13 years. She and her group begin in Magnolia and hit up Wal-Mart, Walgreen's and S&S Home Center on Thanksgiving. At Walmart they are on the lookout for electronics and big TVs, any kind of cookware, sheets, towels, movies and other odds and ends.
At Walgreen's they are on the hunt for discounted toys, and occasionally hair and makeup items. At S&S Hardware, they try to check off some gifts for the men on their list by finding tools and outside heaters. Even their four-legged pals may benefit as the store usually has dog beds on sale, she said.
"I usually have my plans and I take my little notebook. I scope out the ads ahead of time," she said. "If you don't like crowds, Black Friday is probably not for you."
Waller said you have to also be prepared for the crowds to get aggressive on Black Friday.
"There is usually always a fight over some Rachel Ray cookware at Walmart," Waller said. "You have people jumping over you and I'm short so it's not that hard. They just go crazy over cookware."
Waller said she and her friends or family continue their hunt to Shreveport and go to shops like Bass Pro, Target and any other stores before coming back to the Boardwalk where the majority of stores didn't open until 5 a.m.
Waller said she will do Black Friday whether she is working on Friday or not, but that does not come without some sacrifices.
"Two years ago, I shopped all night long and went to work on Friday at 8:30 a.m.," she said. "That was a rough day."
Bobbie Jurls, owner of Hair Works in Magnolia, said she has done Black Friday shopping for the past five or six years and tends to do a lot of impulse buying on that day. She enjoys hitting up stores such as Bath and Body Works on Black Friday and enjoys hitting the sales with her friends and fellow stylists Lynn Barnhart and Brena Ainsworth.
Ainsworth said she enjoys going to shop on Black Friday to witness the spectacle of it all and just do some plain old people watching.
"I've seen people fight over a phone they can get the next day for the same price," she said. "Somebody hit my mother in the head over a hover board."
Black Friday shopping can also cause one to need to take naps to retain their stamina, Ainsworth said.
"Last year we all took naps on the beds at JCPenny," she said.
One-year Wal-Mart was trying to help their customers stay awake for sales, Barnhart said.
"It takes lots of caffeine, so Wal-Mart was handing out five-hour energy drinks in Texarkana," she said.
This year The Perfects on the Square and the Teal Feather downtown hope that they can interest some people in beginning their Black Friday shopping in Magnolia.
Both stores will be open from 10 p.m. to 2 a.m. beginning on Thursday, Nov. 28, and extending to Friday, Nov. 29.
At the Teal Feather, the first 15 customers will receive swag bags with coupons and samples and other things that will be useful until Christmas. The coupons will be able to be used during regular hours on from 9:30 a.m. to 5:30 p.m. Friday, said Kayla Whiddon, whose mother, Tina Wreyford, owns the store.
Caitlyn Powell, the manager of the Perfects said the store hours will be the same at all Perfects locations including those in El Dorado and Camden.
"It's going to be a Black Friday extravaganza with a P.J. party and we will have the coffee shop open," she said.
While shoppers discover what deals they can get inside the store, they can also enjoy such special holiday flavors of coffee such as Fa La La Latte, a raspberry and white chocolate mixture or the Grinch's hot chocolate which is green hot cocoa. Another flavor up for the tasting is S'mores Fireside, which tastes like the beloved campfire treat.
Powell encourages her customers to text Perfects to "22452" to receive special messages about offerings.
"We just wanted them to have a place to come and shop and get their caffeine before they go out of town," she said. "We are glad the Teal Feather is doing this with us."
Sponsor Content