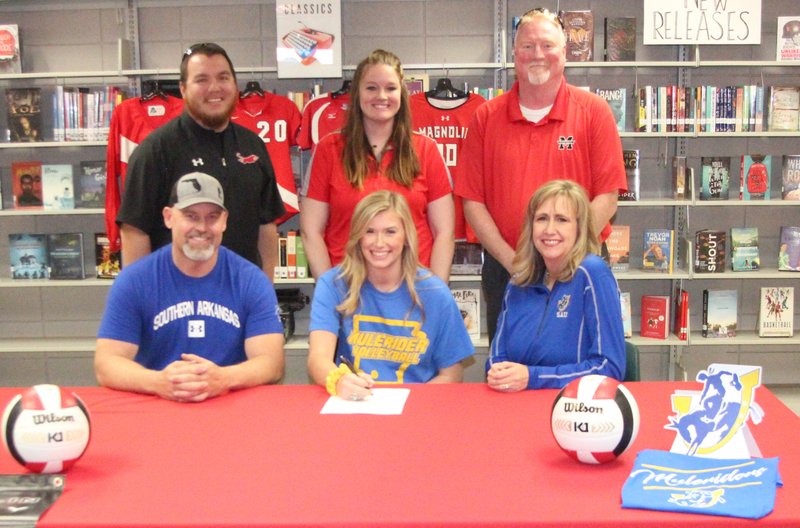 Magnolia senior Carlin Whaley (center, seated) signed to play volleyball with SAU next fall. She is pictured with her parents (seated) Leon and Shelly Whaley, along with coaches Dustin Bakenhus, Merina Powell and athletic director Dyun Long.
For as long as she can remember, Carlin Whaley has always wanted to play volleyball at Southern Arkansas University.
"I'm very excited, because I wanted the opportunity to keep playing volleyball while I pursue my college education. I've always wanted to go to SAU and not go anywhere else. When I got the offer to play in college, it was really special," said the 5-foot-11 outside hitter.
Whaley, in front of family, friends, classmates, coaches, teachers and administrators, signed an NCAA Division II letter-of-intent last week to play with the Lady Muleriders next fall.
The ceremony was held in the Media Center on the Magnolia High School campus.
"When Carlin told me that she had committed to SAU, I was so excited for her because I know she is capable of accomplishing anything she sets her mind to, including playing volleyball at the collegiate level," said MHS head coach Merina Powell. "What's even better for me is that she will be right here at home, so I will have the opportunity to watch her play on a regular basis."
Powell has coached Whaley since the 7th grade and the athlete said she's known her coach all her life.
"Knowing Coach Powell allowed her to be a big help to me on and off the court. She knew the things I needed to work on in order to be a better athlete," said Whaley.
The volleyball star finished this season with a 90 percent serving accuracy, 56 aces, 167 kills and 188 digs. She was selected all-conference in 2018 and 2019, and named to the Class 4A All-State Team this past season. She guided the Lady Panthers to the state tournament, where they fell in the first round to Berryville.
"The best part about coaching Carlin goes well beyond the stat book. When we needed a big play or a spark, she was the one that could provide it. Her leadership by example brought out the best in her teammates," said Powell. "Carlin, you were a great volleyball player for Magnolia and I know you will be an even better wife, mother and woman of society one day.
The head coach thanked Whaley for what she's done for the team, school and city.
Whaley is a two-sport athlete, who also plays softball.
Staying on top of grades was her advice to any student trying to juggle academics and athletics.
"Don't ever get behind in your grades while playing sports in school. It will be difficult to catch up, especially with all the traveling and practicing you have to do," she said. "Stay on top of grades in school is what I will tell anyone."
Sponsor Content