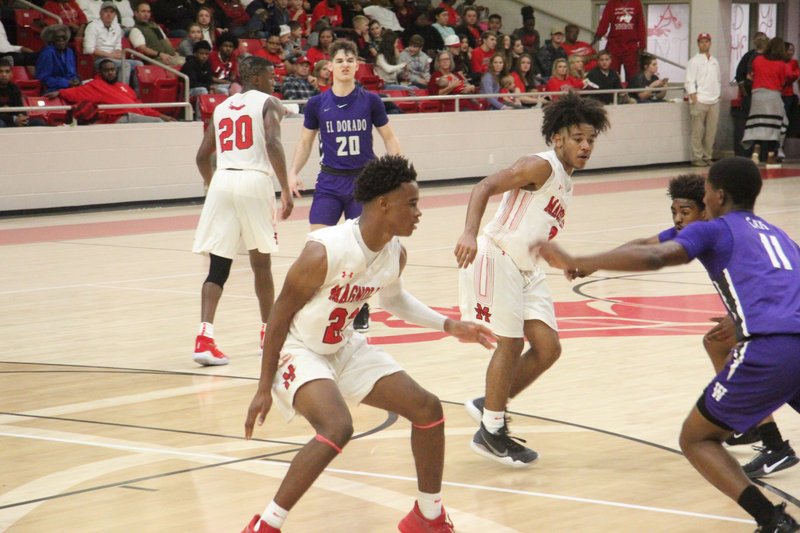 Derrian Ford (20), Colby Garland (22), and Adrien Walker, all sophomores at Magnolia, scored a combined 61 points in the team's dominating opening win Friday against El Dorado. - Photo by Chris Gilliam
The high school basketball season started last Friday in Magnolia with nearly 2,000 fans in attendance.
Fans inside Panther Arena enjoyed music, bright lights, dance team, free T-shirts and an energetic student section.
They also witnessed impressive home opening wins by the Panthers and Lady Panthers over El Dorado.
"It was great. What an atmosphere," said Panther new head coach Ben Lindsey, whose team pounded the Wildcats 79-42.
Lindsey, a former Magnolia Panther himself, takes over a team that won the Class 4A state title last season under first-year athletic director Dyun Long.
"All this is really kind of surreal for me. I want to say that since 1939, my grandfather, my dad and me have coached here," said Lindsey, son of former Panther head coach and athletic director Marvin Lindsey Jr.
The coach indicated there are some things the Panthers must continue to work on and keep improving in areas every of the game before conference play starts.
"For the most part tonight, I loved our energy. We played a lot of guys on the court, but the football athletes are still adjusting," said Lindsey.
The Panthers' top scores from a year ago - Derrian Ford and Colby Garland - did the same in Friday night's opener.
Ford led with 23 points and Garland added 21, while sophomore classmate Adrien Walker provided 17.
Lindsey said the Wildcats were a very athletic team with a good perimeter shooter in Brendon Simmons.
"I thought Derrian did a solid job of keeping him from scoring. He (Derrian) is one of our better rebounders, but had to be away from the basket guarding the shooter," explained the coach.
After the Wildcats opened a quick 2-0 lead, Garland nailed a 3-pointer and the Panthers never looked back.
Magnolia went up by 10, 16-6, late in the first period and Ford knocked down a shot from beyond the arc that gave the Panthers a 19-8 lead after the first break.
Magnolia dominated the second quarter and led by 24, 46-22, at half-time. Garland and Ford had a pair of 3-pointers during the eight-minute span.
The Panthers led by 27, 64-37, after three periods and went up by 31 early in the fourth quarter following a 3-pointer by Walker.
With the mercy rule in effect, Magnolia went on to win by 37 points.
"We want to play man-to-man defense and that's what we did tonight. We want to be aggressive and I saw a lot of that as well," said Lindsey.
The Panthers will travel to Smackover on Tuesday to face the Buckaroos.
Smackover is seeking its first win of the season after falling to Strong 45-44 and Crossett 67-46.
After Smackover, the Panthers will travel to Ashdown Friday, Dec. 6.
The game between the two set of Panthers will be a battle matching two defending state champions against each other.
Class 4A Magnolia suffered a regular season overtime loss to Class 3A Ashdown last season.
The next home game at Panther Arena is set for Dec. 10 against Prescott.
Lady Panthers 56,
Lady Wildcats 44
The Lady Panthers (2-0) used a strong second half to power their way past El Dorado.
Kiara Frazier led the march with 15 points, wile Keshunti Brantley added 11 and Ti'Alone Banks finished with 10. Janayi Baker and Kelcy Lamkin had five apiece, while Ashanti Humbert added four and Alexis Martin finished with three.
El Dorado opened a 4-0 advantage early and was up 13-5 midway through the first quarter. Magnolia, behind Frazier and Brantley, went on a 7-0 run and eventually trailed 13-12 after the first break.
The battle was tight throughout the second eight minutes, but the Lady Panthers managed to carry a 27-23 lead into the locker room at half-time.
The Magnolia defense a couple of turnovers and the offense used an 8-0 spurt to take a 37-30 lead after three periods.
The Lady Panthers led as much as 15 points, 48-33, late in the game before winning by 12.
They will also visit Smackover on Tuesday, where the Lady Buckaroos are 1-1. They defeated Strong 49-28, but fell to Crossett 60-29.
Sponsor Content