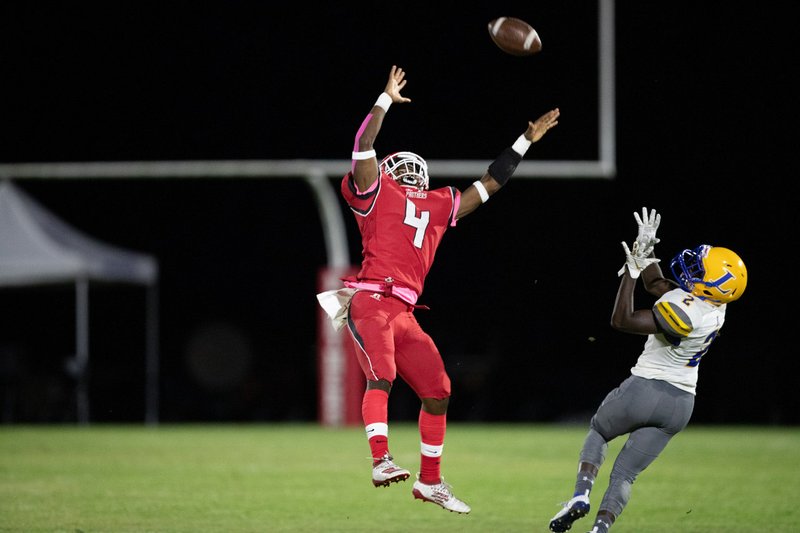 Magnolia defensive back Robert Mack goes after the ball against Hot Springs Lakeside. (Photo by Bill Nielsen)
Magnolia's defense has proven it can stop opponents' running game, but hasn't really faced a team that attacks constantly through the air. That will change tonight in Little Rock when the Panthers (7-3) take on the Pulaski Academy Bruins (8-2), who live by the pass.
Entering the first round of the Class 5A state playoffs, both teams finished the regular season with five consecutive wins. The Panthers are the No. 3-seed from the South, while the Bruins are the second-seed from the Central. They are also ranked third in Class 5A and seventh overall.
The two teams met in the first round in 2016, with Magnolia losing 49-21.
"We are happy to be where we are and fortunate to be playing at this time of the year," said first-year head coach Mark King. "We just have to come out, take care of the football like we've been doing lately and play our game. Everything else will take care of itself."
Of the Panthers' 10 games this season, Crossett threw the ball the most. During that second week where Magnolia rallied to win 36-30, the Eagles had touchdown passes of 25, 26, 26 and 41 yards. They also complete several long passes on third-down plays.
Last week in the Bruins' win over White Hall, quarterback Braden Batcher was 26-of-30 passing for 357 yards and four touchdowns. He's completing 69.6 percent of his passes this season and has 4,063 yards and 40 touchdowns. Bratcher has been intercepted five times and averages 411.8 yards per game. He's ranked as the seventh leading passer in the country and No. 1 in average yards per game.
The Bruins, who average 50.7 points per game, have several receiving targets. One is Andrew Kolb, who had four catches for 119 yards last week. Mason Kolb is the team leader with 848 yards and eight touchdowns. Others include Joe Himon, 590 yards, 3 TDs; Jayden Kelley, 482 yards, 4 TDs; Cooper White, 425 yards, 7 TDs; Caleb Nichols, 351 yards, 2 TDs; and Myles Marottis, 194 yards, 4 TDs. Last week against White Hall, Himon returned two kickoffs for touchdowns.
The Panther defense has given up an average of 31.2 points per game, but only a touchdown in two of the last five contests.
The team's leading tackler is Shawn Bell (101), followed by Demarco Walker (77). Others include Kendrick Carey (57), Phillip Simiyu (56), Travasio Pearson (35) and Jakameron Zachary (34).
Offensively, the Panthers average 31.0 points per contest and used 15 different ball carriers to pick up nearly 3,000 yards on the ground. King's flexbone offense is averaging 287.6 yards rushing per game.
Sponsor Content