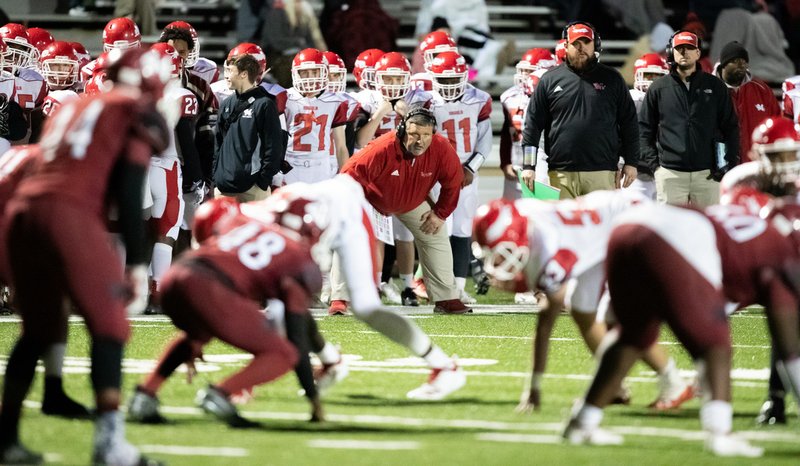 Magnolia Head Coach Mark King (middle) in first season at the team's helm has the Panthers headed back to the state football playoffs. - Photo by Bill Nielsen
First-year head coach Mark King has the Magnolia Panthers back in the playoffs.
Finishing the regular season with five consecutive wins, the Panthers (7-3, 5-2) will represent the 5A-South Conference as the No. 3-seed and will play at Pulaski Academy (8-2, 6-1) Friday night in Little Rock. The Bruins are second seed team from the 5A-Central and ranked third in Class 5A and seventh overall.
"We are happy to be where we are and fortunate to be playing at this time of the year. We will go back to work and prepare for the first round," said King. "We told our kids that there are three seasons in football and we are now in that third season. Anything can happen when you get to this point."
The Panthers will be playing the traditionally-rich Bruins, who has won four consecutive state titles (2014, 2015, 2016, 2017) before falling in the finals to Little Rock Christian last season. In 2016, the Panthers and Bruins met in the first round with Magnolia falling 49-21.
Magnolia's only other recent playoff experience was in 2010 (lost 24-8 in first round to Little Rock Mills) and 2009 (lost 28-24 in first round to Greene County Tech).
"We just have to come out, take care of the ball like we've been doing recently and play our game. Everything else will take care of itself," said King.
During the 42-14 win at Hope last week, King said his Panthers didn't play extremely well.
"We got off to a slow start and was somewhat sluggish that first quarter. No matter how hard to try to prepare and tell kids that every team is going to play hard. Any team can beat you and it's hard to get players up for a team that's only won one game," explained King.
On the Panthers' first possession, senior quarterback Braelyn Beasley's second pass of the night was intercepted. On the first snap of Magnolia's second possession, Beasley was injured and out for the rest of the game after his head hit the turf during a tackle.
Backup quarterback Tanner Nielsen came in and guided the Panthers to the end zone, which ended with him throwing a 22-yard strike to Sid Hampton to make it 7-0. After recovering a fumble on the ensuing kickoff, DeRaylen scored from the 23 to make it 14-0.
Javorrea Murphy had four straight carries on the next possession and his 15-yard run put Magnolia up 21-0. The Panthers threatened again before the half, but came up short on a fourth-and-goal at the 1 with 36 seconds left.
Hope's Jarod Hamilton had a 3-yard scoring run to make it 21-7 midway through the third period, but Shawn Bell answered with a 24-yard TD run to make it 28-7. Kendrick Carey scooped up a Hope fumble and returned it 50 yards to make it 35-7 late in the third.
Magnolia's final score came when Williams scored from the 4 to make it 42-7 early in the fourth quarter. On the drive, Williams had runs of 11, 19 and 22, while Nielsen broke loose on a 27-yard run.
The game's final score came on a 33-yard touchdown pass by the Bobcats, making it 42-14.
"Overall, I was proud of the way everyone stepped up. Tanner (Nielsen) jump in and did a good job when Braelyn when out. "Our motto is next man up. Again, we had some 9th graders get into the game and they are getting a feel of what's it's like to be out there," stated King.
Sponsor Content