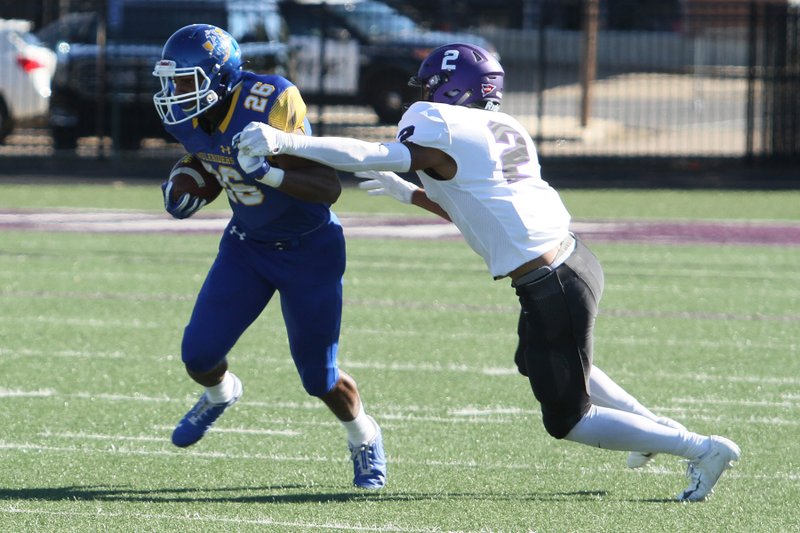 SAU runs against the OBU defense. - Photo by Mike Jones
After having its five-game winning streak snapped last week, Southern Arkansas (7-2) hopes to get back on the winning track this afternoon against No. 22 Henderson State (8-1).
Kickoff at Carpenter-Haygood Stadium in Arkadelphia is set for 2 p.m.
Today's matchup will be the 83rd meeting all-time between the Muleriders and Reddies, with Henderson State leading the series 45-35-2. SAU has won two of the past three battles, but lost in its last trip to Arkadelphia in 2017.
The Reddies are also up to No. 9 in the NCAA Division II Super Region 3 rankings. GAC foes Ouachita Baptist and Harding are No. 3 and No. 4, respectively.
The top seven teams in the rankings at the end of the season will represent Super Region 3 in the playoffs. The top seed in each of the four super regions will receive a bye, with seeds two and four hosting home playoff games and seeds five and seven traveling.
Last week, the Muleriders dropped just their second game in a 38-21 loss to No. 5 and unbeaten Ouachita Baptist in the Murphy USA Classic. The Reddies, who claimed a 27-20 win over UAM last week, control their own destiny. A victory over SAU and OBU next week would increase their playoff changes and give them a share of the GAC title.
When the Muleriders and Reddies met last year in the Murphy USA Classic in El Dorado, SAU's defense held Henderson State to 155 yards of total offense during a 34-14 victory.
Today's GAC games include Arkansas-Monticello at Ouachita Baptist, 1 p.m.; SW Oklahoma at Oklahoma Baptist, 1 p.m.; Harding at SE Oklahoma, 2 p.m.; Southern Arkansas at Henderson, 2 p.m.; Arkansas Tech at East Central, 3 p.m.; and NW Oklahoma at Southern Nazarene, 3 p.m.
During next week's regular season finale Henderson State plays at Ouachita Baptist, 1 p.m.; Oklahoma Baptist visits Southern Nazarene, 1 p.m.; East Central travels to SE Oklahoma, 2 p.m.; UAM is in Magnolia at Southern Arkansas, 2 p.m.; Harding visits Arkansas Tech, 2 p.m. and SW Oklahoma plays at NW Oklahoma, 3 p.m.
Sponsor Content