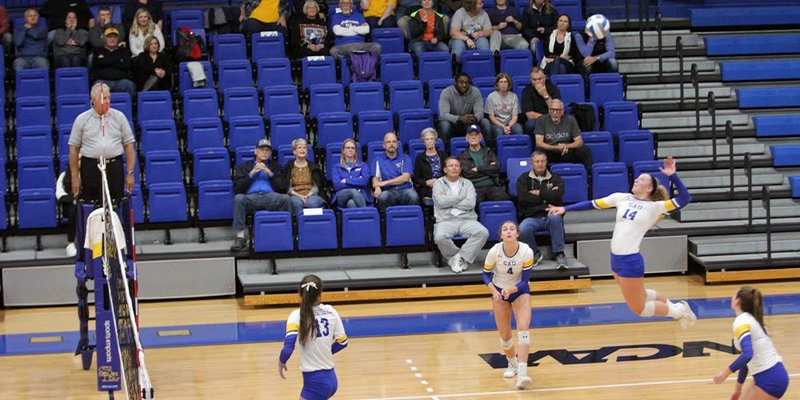 SAU's Morgan Gross goes up for a serve during a recent match. (Photo by SAU Sports)
Southern Arkansas won't be participating in the 2019 GAC Volleyball Championships this fall, but the Lady Muleriders are looking to finish the season on a strong note.
The first of their final four matches is set for Tuesday when they travel to Monticello to face the UAM Cotton Blossoms in a Battle of the Timberlands event. First-serve is set for 6 p.m. They will play at Henderson State Thursday night and play back-to-back matches at home Nov. 12 and Nov. 14 against Ouachita Baptist and Arkansas Tech.
The Lady Muleriders (3-20) are one of three teams with only one GAC victory. Ouachita Baptist (22-4, 11-1 GAC) is the only team so far to qualify for the GAC Volleyball Championships.
For the seventh-straight year, the top eight schools will head to Hot Springs for the GAC Championships that will be Nov. 21-23.
As of last weekend, Northwestern (9-3) and Southwestern Oklahoma (9-3) were tied for second, while Southern Nazarene (7-4) and Arkansas Tech (7-4) were deadlocked in third place.
Harding and Henderson State, both with 7-5 league records, were tied for fourth. Ouachita Baptist (6-6) was sitting in eighth place, just ahead of UAM (4-7).
The Lady Muleriders, Southeastern Oklahoma and East Central are 1-11 in league play.
SAU fell 3-1 to Harding in conference play last week.
Morgan Gross recorded a career-high 19 kills to lead all players. She also had three service aces, two blocks, seven digs and an assist.
Gross also had a season-high .459 attack percentage.
Seven Powers and Abby Bermudez join Gross with 10 or more kills, with 11 and 10, respectively. Bermudez hit .421 and blocked two Harding attacks, while Powers recorded seven digs, a block and an ace.
Alana Perez had a team-high 14 digs and Morgan Schuster assisted Mulerider attackers 41 times, the third time this season the freshman has recorded 40 or more assists in a four-set contest.
Sponsor Content