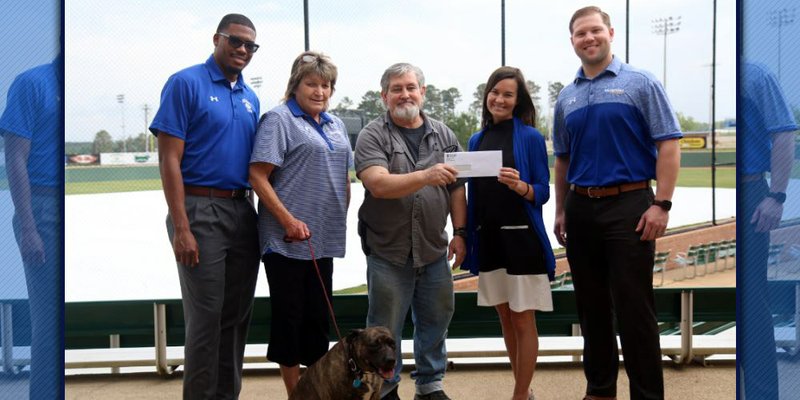 SAU Associate Director of Athletics for Internal Operations/Senior Woman Administrator Kasey Wylie (second from right) presents a check to CCAPS volunteer Steve Stroeble. Also present are (from left) SAU representatives Darius Strickland, Lynn Disotell, and Jackson McCurdy.
The SAU Athletics Department recently presented a $500 check to the Columbia County Animal Protection Society (CCAPS).
The money presented came via proceeds from the recent "Bark at the Park" game at SAU baseball this spring and will go to support the organization's mission to "provide temporary humane care, food, water, shelter, and medical attention for stray, homeless, abandoned, and neglected animals in Columbia County and South Arkansas."
"'Bark at the Park' has been an annual community event that we all truthfully look forward to," said Browning. "This year, due to weather, we were only able to have the event on one weekend, unlike the last few years where we have doubled up on it and had a date for both a baseball and a softball game. But this year was still a big success and we are proud to have helped support a great cause and get the word out for CCAPS."
"This year, we wanted to make sure that we could do all we could financially, and so Mulerider Athletics matched the donations received from our generous fans," added Browning.
Having taken place now seven-consecutive years, this year's "Bark at the Park" date was held on April 20 at Walker Stadium at Goodheart Field for SAU's doubleheader against Ouachita.
CCAPS is a 501(c) 3 nonprofit organization maintained through donations from the community as well as proceeds from Second Chances Thrift Store. The organization does not receive any city, county, state, or federal funding.
Sponsor Content