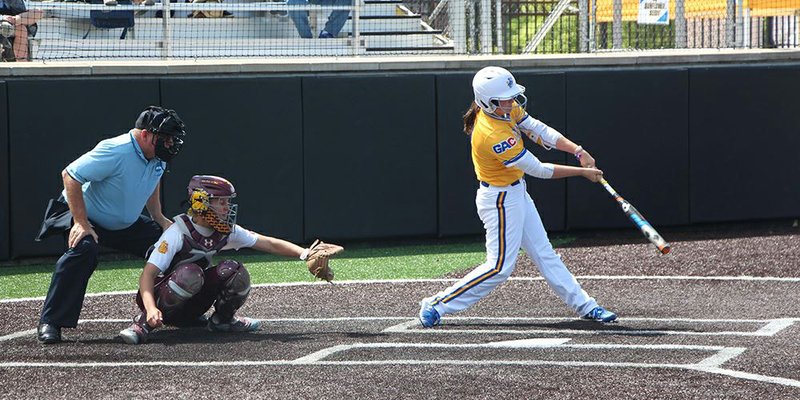 Sarah Pitre swings the bat during Central Region Tournament in Oklahoma. The Lady Muleriders, who were eliminated, defeated Minnesota-Duluth but fell twice to Arkansas Tech.
The Southern Arkansas softball and men's golf seasons came to an end over the weekend.
The Lady Muleriders (46-13), defeated Minnesota-Duluth 3-1 but lost 4-3 to Arkansas Tech in the South Central Region Tournament in Edmond, Okla. It was their second loss to the Golden Suns in the tournament.
Against Minnesota-Duluth, Sarah Pitre and Elisa Favela had home runs. In their battle against the Golden Suns, SAU fell behind 2-0 but tied the contest at 2-2 off back-to-back homers by Faith Otts and Favela.
Both teams scored a single run in the sixth, but ATU got the game-winner in the bottom of the seventh.
In golf, a historic season came to an end at the Hot Springs Country Club. In the program's first-ever postseason appearance, the Muleriders finished in a tie for 13th place with a respectable 905 in the 54-hole NCAA Division II Central/Midwest Regional.
Junior Kade Johnson, the 76th ranked golfer in Division II, led SAU for the tournament as he finished tied for 27th with a 222. Senior Kevin Elder, in his final action for the Muleriders, posted a 227, while redshirt sophomore Kyle West finished one stroke back. Junior Calum Graham recorded a 232 for the tourney, while sophomore Roman Timmerman resigned from rounds two and three due to illness.
In rounds two and three, SAU registered 16 birdies with five each coming from Johnson and Graham. The Muleriders combined to make par on 86 holes during the tournament.
Sponsor Content