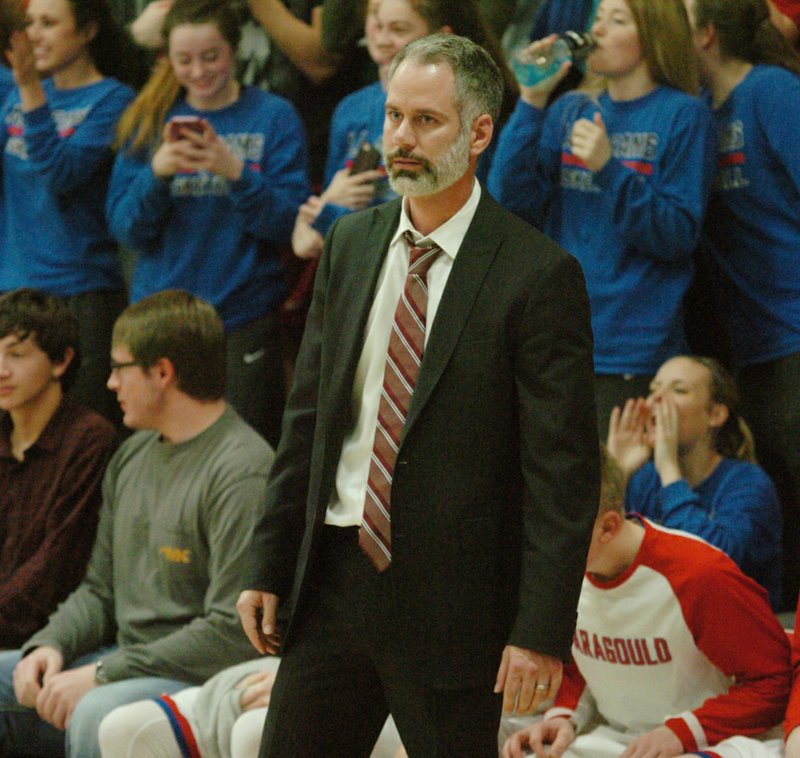 Magnolia alum Ben Lindsey has been selected as the new head boys' basketball coach at Magnolia High School. The former Paragould head coach is pictured during a PHS Rams home game. - Photo by Paragould Daily Press
The recent reshuffling of Magnolia High School's athletic department was completed Monday night when the School Board of Education unanimously approved the hiring of Paragould's Ben Lindsey as the Panther's new head boys basketball coach.
The 37-year-old has helmed the PHS Rams since 2012. Lindsey now takes over a Magnolia squad that in March won the Arkansas Class 4A State Basketball Championship.
The new head Panther is no stranger to Magnolia. He is town native and a class of 2000 Magnolia High School graduate where he played for the same team he now coaches. He is also the son of just-retired Magnolia Athletic Director Marvin Lindsey Jr. and longtime Magnolia faculty member Sonja Lindsey.
The newly-named head coach was one of 12 applicants for the Panther opening, according to Magnolia Superintendent John Ward. The top four candidates were selected for an interview; of the candidates, three were said to have had head coaching experience. Magnolia Athletic Director Dyun Long and MHS Principal Chris Carter also aided in the coaching search.
Although he is coming off a 6-19 season, Lindsey's Paragould teams compiled an overall record of 89-86 in seven years. His most successful year at PHS came during the 2015-16 season when the team went 20-6 with an 11-3 conference record. The Rams that year were knocked out of the Arkansas Class 5A State Basketball Tournament by Magnolia.
Lindsey was also head basketball coach at Clinton High School in 2011 and was a staff member for Mike Anderson's University of Alabama-Birmingham and University of Missouri squads that each made the NCAA Tournament.
With the boys' basketball vacancy now filled, Long can now take over AD duties full-time. The former head basketball coach since 2007 had been the de facto leader of the boys' program since he was hired in April to fill the void left after the elder Lindsey announced his retirement. The basketball team had been without an official head coach since Long's promotion.
Lindsey was not in Magnolia on Monday for the coaching announcement due to the expected birth of his child in northeast Arkansas, but he will take over Panther coaching duties as soon as possible.
"We are excited to have Ben back home and look forward to continuing the tradition of excellence with Panther Basketball," said Ward on Monday.
When asked if Lindsey's connections and familiarity with Magnolia played a part in his hiring, the superintendent stated that it was not a determining factor.
"We were interested in hiring the best coach for our team," he said. "He knows our expectations."
Ward added: "It's no secret what our talent is right now" but mentioned Lindsey has always had an interest in his hometown team.
"He's wanted this job for a long time," the superintendent said.
Magnolia will likely be a strong contender next year for another Class 4A State Championship run. Although two senior leaders will be lost in guards Kadyn Roach and Markeveon Strickland — both of whom are set to play intercollegiate athletics next year — the elite guard pairing of Derrian Ford and Colby Garland will be entering only their sophomore years at Magnolia High School.
Both are highly touted 2021 prospects and regulars on the AAU circuit. Ford just last week was offered a scholarship by the Arkansas Razorbacks and newly hired coach Eric Musselman. The offer adds to his already impressive list from major universities including Alabama, Oklahoma State, TCU, Baylor, Oral Roberts and Fresno State.
Magnolia is also set to get help in 2019-20 from Braelyn Beasley, another contributing guard from the title-winning team who is set to return for his senior season.
Note: This story was updated May 14 at 10:30 a.m.
Sponsor Content