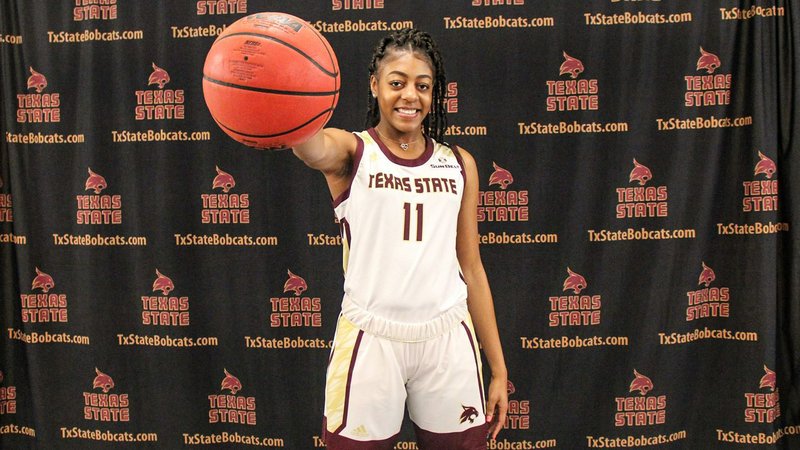 Former Magnolia Lady Panther Lillie Moore, who led Kansas City Kansas Community College to a national championship two months ago, is now part of the Sun Belt's Texas State Lady Bobcats. She jokes with her parents, Earnest and Essie Moore of Magnolia during the recent announcement. Photo by TSU Sports
SAN MARCOS, Texas State head coach Zenarae Antoine announced Lillie Moore of Kansas City Kansas Community College has committed to the Bobcats to continue both her educational and basketball careers.
Moore is a 6-0 forward who played at Magnolia High School.
"Lillie is a welcome addition to our Bobcat family," Coach Antoine said. "Not many student-athletes are able to say that they competed for and won a national championship at any level. Lillie is a student-athlete that can confidently say that. She comes from a strong junior college program that is not only competitive on the basketball court but also in the classroom. She will add depth at the forward position and complement our team culture with a winning mentality on and off the floor. It is a great day to be a Bobcat!"
Moore earned first team all-region and second team all-KJCC as a freshman and second team all-region and second team all-conference honors as a sophomore. She was named to the All-National Tournament team after the Blue Devils cruised to the 2019 NJCAA DII National Basketball national championship. Moore tallied double-doubles in the regional championship (22 points, 14 rebounds) and the national semifinal (22 points, 12 rebounds) to propel KCKCC to the title game. She added six points and 12 rebounds in the tournament-clinching victory.
She ended her sophomore campaign as the second leading scorer for the Blue Devils with 14.7 points per outing. Moore connected on 53.0 percent of her shots to rank third on the team. She added 8.1 rebounds, 1.3 steals, and 1.2 blocks per game in 18.1 minutes a night. Moore started 35 of the 36 games she played for head coach Joe McKinstry.
Moore was active in the community during her two years at the junior college ranks. She volunteered on the Make A Wish Committee, worked as an advisor for Vacation Bible School, and volunteered with the Kansas City Royals.
"I am extremely happy for Lillie and her family and the opportunity she has earned from Texas State," Coach McKinstry said. "Lillie is a skilled forward who left an impact on our program that will last for many years. We are very grateful for her dedication and hard work and we are excited to follow her journey as a Bobcat."
Texas State currently competes at the NCAA Division I level and are members of the Sun Belt Conference.
Sponsor Content