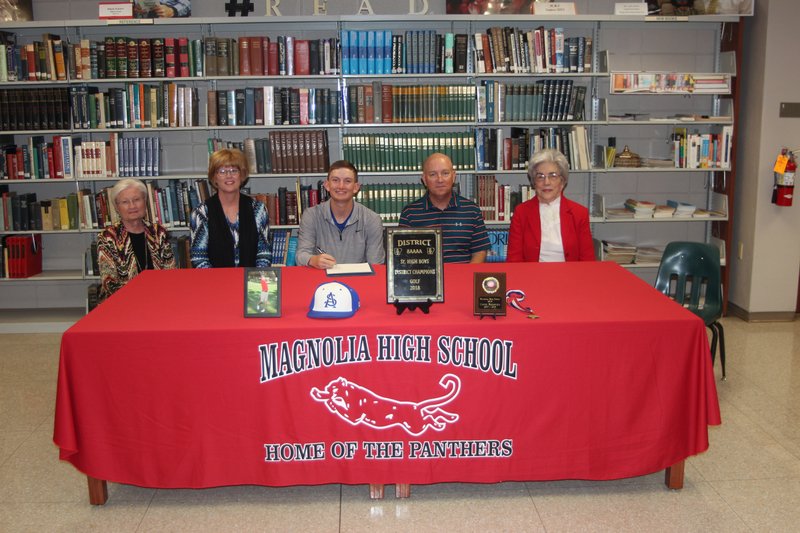 Magnolia senior golfer Connor Harrington signed an NCAA Division II letter-of-intent to play golf for Southern Arkansas University. He is joined by his parents, Jeff and Shannon Harrington, along with grandmothers Sue Williams (left) and Mona Harrington (right).
Academic and athletic achievements in high school gave Magnolia senior Connor Harrington many options on what college he could to attend after graduation.
But the all-state golfer, who holds a 3.95 grade point average, said Southern Arkansas University has been his choice for as long as he can remember.
"It's close to home and all my family members went there. I definitely want to carry on that tradition and the golf scholarship to play with the Muleriders was really too good to turn down," said Harrington.
The senior, before family, teammates, coaches and school administrators, signed an NCAA Division II letter-of-intent to join the SAU golf team next fall. He will be joining a program that's led by GAC Golf Coach of the Year Ben Sanders. The Muleriders won a record three tournaments this season and was selected as the No. 3 seed in the upcoming NCAA Division II Central/Midwest Regional Tournament that starts Thursday at Hot Springs Country Club.
Harrington said academics obviously come before golf, like student comes before athlete.
"You have to be the student before the athlete, and I thank God for giving me parents who instilled that in me while I was growing up. I am thankful to them for that and they also made me understand you have to have an education to go get a job. That makes education the most important thing," he said.
Harrington has been a four-year member of the Magnolia golf team, winning nearly every honor available through the program including twice all-conference, all-state, district medalist and Male Golfer Athlete of the Year. While maintaining high grades, he also competed in baseball, athletic training and other activities at Magnolia High School.
He credits coaches in all sports for helping to develop him into not just the athlete, but the person he is today.
"They (coaches) were all like father figures, because my dad was working most times or running around everywhere helping others," said Harrington.
According to the golfer, participating in several activities while in school and maintaining good grades take commitment.
"I will say be committed in anything and everything you doing, including the classroom. Give 110 percent in all you do. If you're not willing to do that, then you are not going to succeed," he added.
Harrington said he loves golf and wants to continue improving his game. He added that years down the road when he retires, golf is a game that he can still lean on.
The golfer noted that putting and chipping are the key points to his game.
"I was always having putting and chipping contests with Coach (Marvin) Lindsey and I would always win," Harrington said with a laugh. "I really love those areas of the game."
Lindsey said Harrington epitomizes for Magnolia High School what a student-athlete is, referring to his excellent grade point average.
"Every athletes has aspirations of playing in college, but that doesn't always happen. You have to have a backup plan and that's education if you want to be successful in life," explained Lindsey.
The coach said Harrington has been blessed with both the academic and athletic abilities to move on to the next level.
"Connor is a competitive. You will find his picture next to that word in the dictionary. I don't know exactly how much Connor's weighs, but 90 percent of it is his heart," said the coach.
According the Lindsey, the one thing talked most about in athletics is the "it" factor. He explained an athlete with the "it" factor is one who can raise his or her level of play when necessary.
"You have to be able to rise to the occasion and that's what Connor did for us all season. When we needed him to step up, he did," said Lindsey, adding he could always depend on the Panther during crunch time.
The coach congratulated Harrington for his achievements and looks forward to not only watching him play with the Muleriders, but also competing against him on the golf course.
Sponsor Content