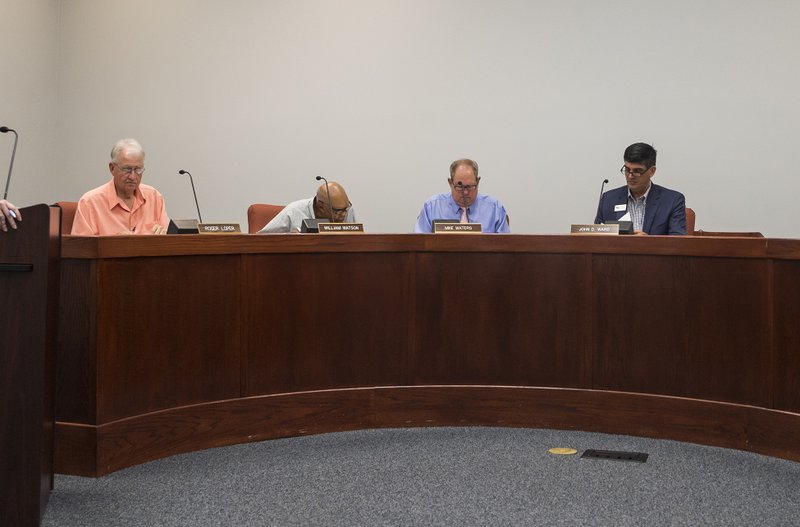 Magnolia School Board of Education members (left to right) Roger Loper, William Watson, and Mike Waters listen as a school improvement plan for the 2019-2020 academic year is explained. Also pictured is Magnolia Schools Superintendant John Ward. - Photo by J.D. Bailey
With a set goal of 10-percent student achievement scores at Magnolia Schools for the 2019-2020 year, a plan was laid out this week and approved by the Magnolia School Board of Education.
"Our overall goal for the district plan is that the Magnolia School District constantly strives to insure a quality education and high levels of learning for all students," said Kim Wyrick, curriculum coordinator for Magnolia School District.
The district will use five steps provided by the Arkansas Department of Education. Key additions will include: reallocating resources to support the staff in instructional improvements; recruiting, training, and supporting personnel to address school improvement issues; providing school leaders with reasonable autonomy; designating a central office contact person for the school to provide assistance with improvement; and incorporating a team structure.
The district has also enacted "action steps" to help with school improvement. In the steps, district administrators are now set to frequently meet with each school's administration staff and leadership teams for reviews. Data will be analyzed to see which areas require improvement.
Funding will also be provided for professional development, and a district rep will be designated to spearhead improvement efforts. Upper-level district administrators will with each school to provide support, as well. The school district will utilize a district team structure to meet quarterly with school leadership and professional learning teams.
Principals from East Side Elementary, Central Elementary, Magnolia Junior High, and Magnolia High School also each gave presentations on their campus' improvement plans.
After the presentations, Superintendent John Ward expressed how pleased he was with last year's strong finish and vigorously complemented the effort put in by administrators and faculty to tackle something as intensive as school improvement.
"Our principals and our teachers have worked extremely hard in using data to drive their instruction," he said. "And I think our scores will show that."
He later added: "[Scores] are just a snapshot in time, and I don't think it really does justice to the instruction that is going on in our classrooms on a daily basis. What our teachers and principals are doing is exciting. They're doing a phenomenal job in our classrooms, and they are working their tails off and using the best practices to help our students achieve at the highest level. I'm just so proud of the work they're doing."
In a change of pace on the evening, construction updates were also issued for ongoing building projects around Magnolia campuses.
The dirt work is ongoing at the new performing arts center and brick is being applied to the exterior of the ninth-grade academy.
"I'd say probably two more weeks and they'll have it bricked if I were trying to put a timeline on it," Ward said.
At Central Elementary, construction is "coming along nicely," the Superintendent t added, and the final touches are being put on the gymnasium.

In other school board news:
-- The school's total operating fund balance at the of May was $6,397,944.98. Total cash-in-bank was $21,682,180.28.
-- A furniture purchase for the new ninth-grade academy was approved. The bid from Moser Furniture for $165,167.89 was accepted. The only competing bid came in at $191,868.
-- The school system's property insurance was renewed. It's premium increased around $1,462 from last year due to replacement costs rising. The total replacement cost of the school systems assets, according to its insurance, rose from $95 million to $97 million.

-- Revisions were made to the Maintaining a Good School Atmosphere Student Discipline Handbook. Key changes dealt with grades 7-12 and the use of devices to record or take video and photographs in "areas where personal privacy exists." These areas include, but are not limited to, locker rooms and bathrooms.
Another change dealt with grading by using a "mastery" checklist. It will now be implemented from kindergarten through second grade. "Really, what this does is provide teachers, and really parents, with a better understanding of where their kids are academically," said Ward.
Another change dealt with Magnolia Junior High discipline. It now states that students may not have more than two office referrals per semester before they can be considered for exemptions from semester tests. The wording was also changed dealing with information sheets for students permanent record and changes were made to alternate pathways to graduation. Graduation requirements also now include to be trained in CPR and must take at least one course in digital learning and personal and family finance.

– The Magnolia School Board of Education will not meet in July. They are next scheduled to gather the second Monday in August.

Sponsor Content