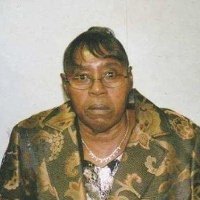 Bernice Biddle Gladney 84, was born October 1, 1934, to the late Prentice and Fannie Mary Biddle in Emerson, Arkansas.
God called Bernice home on May 25, 2019.
She was preceded in death by her parents, husband L. C. Gladney, daughter, and brothers and sister.
Bernice is survived by her son: Johnny W. Harper of Minden, LA; two daughters: Sara J. Douglas of Shreveport, LA, Vanessa R. Russell of Springhill, LA and several grand and great-grand children and a host of other relatives and friends.
Funeral services at Smith Chapel-415 First street at 11 a.m., Saturday, June 8, 2019 with Pastor Rodney E. Williams eulogy. Burial at Lakeside Cemetery in Stamps, AR under the direction of Smith Funeral Home of Stamps.
Visitation Friday, June 7, 2019 at Smith Funeral Home from 11 a.m. until 4 p.m.
Online registration is at aosmithfuneralhome.com.
Sponsor Content