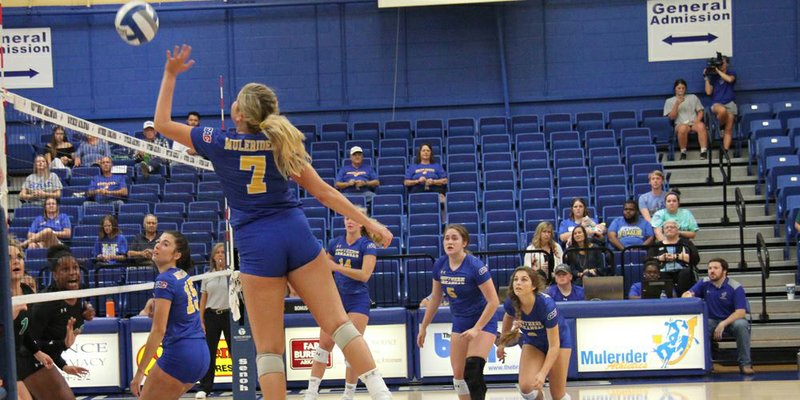 SAU'S Seven Powers goes up for a spike during SAU volleyball action this season.
The SAU volleyball program has announced four camps are scheduled to take place June 17-20 inside the W. T. Watson Center and registration is now open for campers entering third through 12th grade.
The first to take place is the All-Skills Camp on June 17-18 for campers entering grades 9th through 12th. Two pricing options are available, with those staying overnight on the SAU campus for $160 (meals included), while commuters will pay $130 (no meals provided).
The next camp scheduled is the Little Muleriders' Camp on June 18-19. Campers entering grades 3rd through 6th will have the opportunity to develop fundamental skills of volleyball under the guidance of the SAU volleyball coaching staff. The pricing for the Little Muleriders' Camp is $60 total for the two days.
The Elite Camp is scheduled to take place on June 19 for campers entering the 10th through 12th grades. Campers will focus on fundamental skills during the morning session before competing in the afternoon sessions. The Elite Camp's cost is $85 total for both sessions.
The final camp is the Specialized Skills Camps, set to take place on June 20. Campers entering grades 7th through 12th will get to choose what position groups' skills they would like to develop, as either a hitter, setter or libero, with the last session providing a chance to compete against each other. The Specialized Skills Camp is $100 dollars with dinner provided.
Sponsor Content