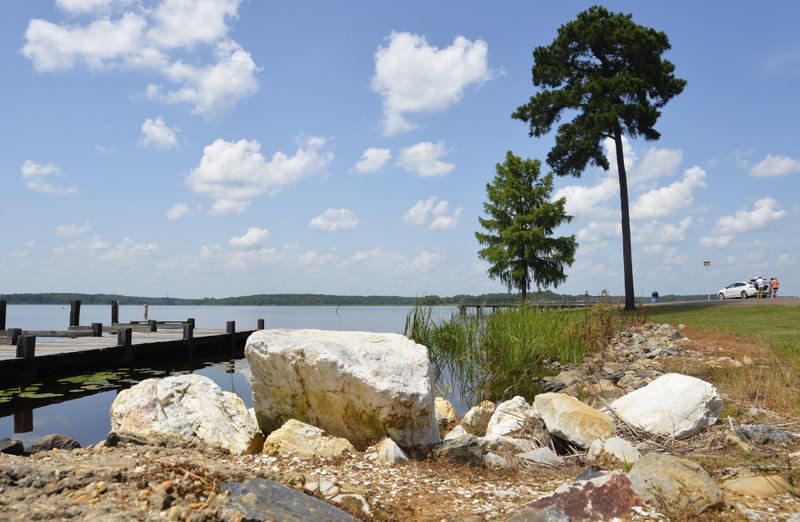 Lake Columbia has been ranked as one of 2019's best 100 bass fishing lakes in America by Bassmasters. By region, the Magnolia area lake ranked 21st among the central states, according to the organization's annual rankings. Pictured is a view of the lake from South Shore Landing. - Photo by J.D. Bailey
The word is now out on one of the region's small hidden gems and one of the best bass fishing spots in the country. Lake Columbia, nestled just outside Magnolia and built in 1986 as a freshwater source and recreation area, has been named to Bassmasters annual listing of the top 100 bass fisheries in America.
The 2,950-acre lake may not boast enormous size — some inlets and coves on other lakes listed are actually bigger than Lake Columbia as a whole — but what it lacks in area, it more than makes up for in wall-hanger-sized bass.
Columbia ranked 21st on Bassmasters' list among the central states. The area includes most of the Midwest and mid-south. Out of the 25 lakes named in each region (Central, Western, Southwestern, and Northeastern), the top 100 bass fisheries were compiled.
"Things are good right now at Columbia," said Jason Olive, a biologist for the Arkansas Game and Fish Commission.
According to AGFC's own "A-Tip" tournament reports, Lake Columbia in 2018 was the number one bass fishing lake in the state. It is again on pace in 2019 hold that title.
"Probably the first thing [Bassmasters] looks at is tournament results," Olive added.
Bassmasters leans heavily on its state contacts within game and fish organizations as well as B.A.S.S. Nation conservation directors and "far-reaching" searches for bass tournament data to determine its top 100 list. Bassmasters monthly magazine has traditionally revealed its annual list every July. Lake Columbia appears in this month's issue, along with the rest of the ranked lakes. It is the lake's inaugural appearance among the top 100.
The bass fishing organization also uses sampling results as a determining factor for its list.
"You'll find great fishing in this small lake near Magnolia, Arkansas," said the Bassmasters description of Lake Columbia. "Biologists report 10-percent of the bass they shocked up were longer than 20 inches, and 2018 creel surveys revealed 60 percent of anglers caught at least one bass topping 5 pounds. And to win tournaments here, you generally hit the mid-20-pound mark."
Over a five-year period, AGFC A-Tip report records indicate that Lake Columbia ranks only behind Millwood Lake near Ashdown for bass fishing in Arkansas.
So why now? What's made Lake Columbia gain so much notoriety? Simply put, big bass and lots of them.
"Columbia has had some really phenomenal tournament results over the last couple of years," said Olive. "When the lake re-flooded, we got some really good spawns in those first few years. Those are the 4- and 5-pounders we're seeing now."
But the lake has not always had the amount of fishing success as it does currently. In the late 90s, roughly a decade or so after the lake was built, there was a bass boom when the initial stock matured into giant bass, but as underwater habitats eroded, so did the big fish.
Mother nature in 2010 offered another boost to the lake's fishing. During a prolonged drought, Lake Columbia fell 8-feet, exposing acres upon acres of previously covered shoreline. Over nearly three years of an extremely slow refill, the exposed areas grew heavy natural vegetation. The fishing was not great during the drought, but the extra growth created an abundance of perfect spawning habitats for future fish.
After fully refilling in spring 2013, the results are now showing themselves.
"Those fish they're catching now are a direct result of the drought," Olive said. "It's the same thing that happened to Toledo Bend, Lake Fork, and other places that people often think of as the marquee bass lakes in the country. It's just on a much larger scale there."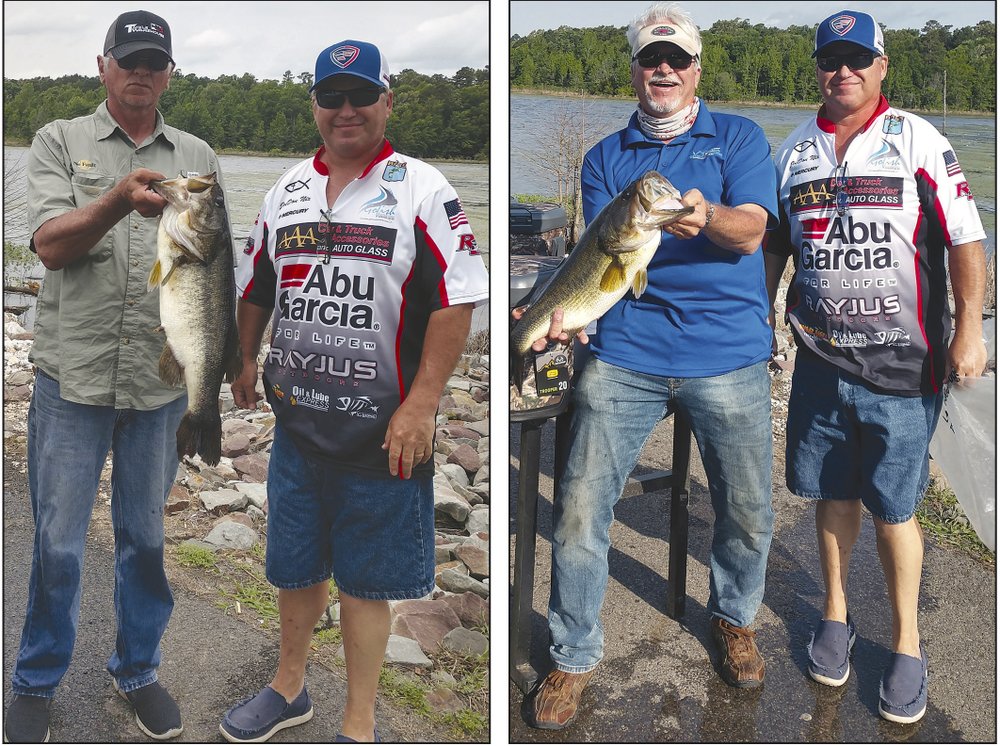 Overall winner Tim Denman (left), with his 7.92-pound bass, and Eric Morrison (right), with a 6.92-pounder, in this May 18, 2019, Banner-News file photo show off the top two bass caught on Lake Columbia during the annual Tom Dehoney Big Bass Tournament. Also pictured is tournament official JoeDon Nix.
The quality fishing isn't expected to slow down in the next few years. As the fish from the first few spawns after the drought continue to grow, some are expected to become prize-sized bass.
"I'm hoping we can get several double-digit fish out of this boom in the next four or five years," said Olive.
But the top-level fishing isn't expected to last forever. Without another major natural phenomenon, Lake Columbia's fishing results will again slide down to where they were before the drought as the abundance of underwater grasses and bushes grown from 2010 to 2013 erode and decay away under the surface.
"Those lakes in Texas get a lot more droughts than we do, so about every 10 years, they kind of re-cycle and another boom hits," Olive added.
In total, five Arkansas lakes made Bassmasters' top 100 list for 2019. Besides Columbia, Millwood Lake, Lake Ouachita, Lake Dardanelle, and Bull Shoals Lake were all included. Millwood was the highest rated among the central states at number 12. Sam Rayburn Reservoir near Nacogdoches, Texas, was rated tops in the region.
The top 10 bass fisheries overall in the country, according to Bassmasters were: St Lawrence River (Thousands Islands), New York; Lake Guntersville, Alabama; Sam Rayburn Reservoir, Texas; Clear Lake, California; Lake Fork, Texas; Chickamauga Lake, Tennessee; New Melones Lake, California; Lake St. Clair, Michigan; Santee Cooper Lake, Marion and Moultrie, South Carolina; and Lake Erie, New York.
The full list can be seen here: https://www.bassmaster.com/best-bass-lakes/slideshow/100-best-bass-lakes-top-10-2019
Sponsor Content