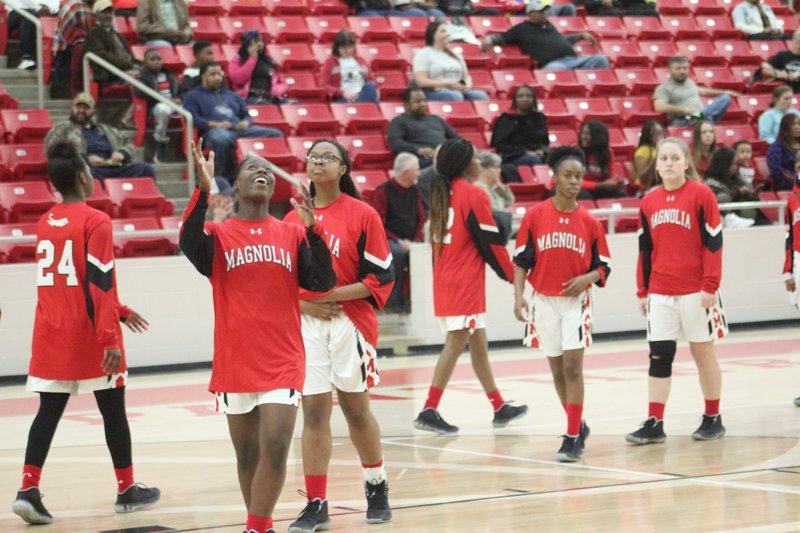 Magnolia Lady Panther Keshunti Brantley waits for the rebound during warm-ups. - Photo by Chris Gilliam
The Magnolia Lady Panthers (4-1) had three players score in double figures during a 61-42 win over Prescott (2-2) Tuesday night at Panther Arena. The Lady Panthers' only setback so far was a one-point loss last week at Ashdown.
Kiara Frazier led with 15 points, while Keshunti Brantley and Janayi Baker added 11 apiece. Kelcy Lamkin finished with eight and Alexis Martin added five.
The Lady Curley Wolves opened with a 4-0 lead, but Magnolia reeled off 11 unanswered points to go up 11-4 with two minutes remaining in the opening period. Brantley scored eight points during the run and the Lady Panthers led 13-6 after the first break.
Magnolia knocked down four 3-pointers in the second period to pull away. Frazier and Baker hit from beyond the arc, while Lamkin canned two shots from 3-point range. Prescott stayed within striking distance as India Rooney had 10 points in the quarter. She led all scores with 20 points, while teammate Carly VanHook finished with 12.
Magnolia led 31-21 late in the first half and carried a 33-21 advantage into the locker room.
Frazier had three more long-range shots to fall in the third quarter as the Lady Panthers built 52-27 advantage before the buzzer sounded. Prescott outscored Magnolia in the fourth quarter but was unable to catch up.
In senior high boys' action, the Panthers (3-0) knocked off the Curley Wolves 51-34 as Derrian Ford led with 21 points.
The Panthers never trailed in the game as Ford gave them a 2-0 start. The battle was tight during the first eight minutes as Magnolia led 6-3 at the midway point and 14-11 at the first break.
An 8-0 start to the second period put the Panthers in front 24-11 and they led 28-12 at the half. The MHS defense allowed Prescott no field goals and only a free throw late in the quarter.
Magnolia took control in the third period and led 43-24 when the buzzer sounded.
Braelyn Beasley followed Ford in scoring with eight points, while Adrien Walker added seven.
Traci McClinton paced the Curley Wolves with 13 points and Cory Hill added nine.
The Panthers' next action will be Friday at Ashdown, while the Lady Panthers will compete in the Camden Fairview Holiday Classic Dec. 26-28.
Sponsor Content