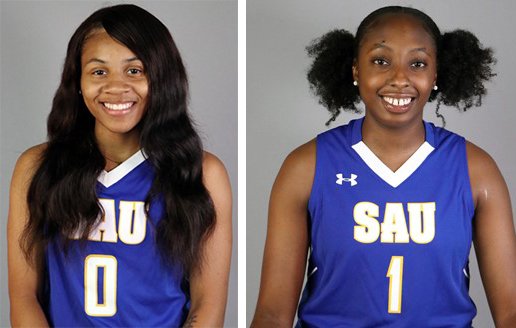 Ariana Guinn (left) and Kisi Young.
The Southern Arkansas Lady Muleriders (6-1, 2-1 GAC) continued their impressive start to the basketball season last weekend with a 73-58 GAC win over Ouachita Baptist.
The victory snapped a five-game losing streak to the Lady Tigers. It marked SAU's first win over the Tigers since Jan. 21, 2017 and their first win in Arkadelphia since Jan. 23, 2016. The two conference wins for the Muleriders matches their total from last season and the 6-1 start matches that of the 2015-16 season.
SAU will play at home this Saturday afternoon when they host the Arkansas Tech Golden Suns.
At OBU, a 26-13 second quarter proved to be the major difference.
Thirteen of 15 SAU players scored, with Kisi Young (12 points) of Magnolia and Ariana Guinn of Hot Springs (11 points) reaching double digits.
In men's action, sophomore Jalen Brooks had a career-high 22 points, which included four 3-pointers, during the Muleriders tough 68-67 loss to OBU.
The Muleriders (3-5, 1-2 GAC) trailed 35-34 at the half and matched Ouachita's 33 second half points in a game that featured five tied scores and five lead changes. SAU led by 12 points (26-14) 12 minutes into the game, but Ouachita used a 21-8 run over the final eight minutes of the half to take the one-point lead at intermission.
The Tigers built a 12-point advantage in the second half and held off the Muleriders at the end.
Sponsor Content