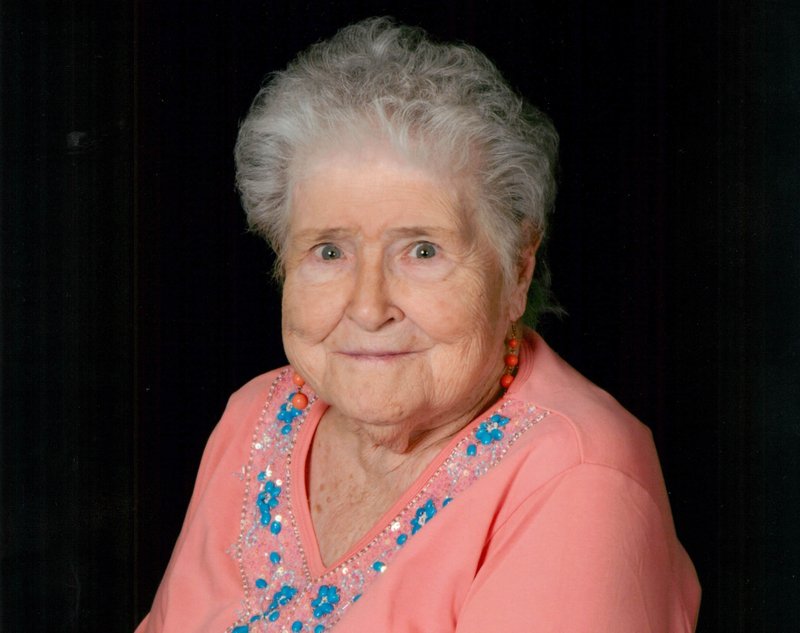 Funeral services for Mrs. Julia Maude Jennings, age 90, was held at 10 a.m., Tuesday, December 3, 2019, at the First Baptist Church of Taylor, Arkansas in Taylor with Dr. Randy Wilson officiating. Interment followed in Springhill Cemetery, Springhill, La., under the direction of Bailey Funeral Home of Springhill, La.
Visitation was held Monday, December 2, 2019, from 5 to 7 p.m. at First Baptist Church, Taylor, Arkansas.
Mrs. Jennings was born on January 15, 1929, to Earlie and Ivy Keeton Harvey in Taylor, Arkansas and passed away on Friday, November 29, 2019, in Taylor, Arkansas. She was a lifelong resident of Taylor, a faithful member of the First Baptist Church and a homemaker. She was a member of the Order of the Eastern Star, Taylor Chapter #613. She loved to sew, work in her flower gardens and cook for family and friends. She also enjoyed sharing her knowledge and talents with others.
She is survived by a son, Marvin Jennings and wife, Debbie of Waldo, Arkansas; son-in-law, Kenneth Tyler of Texarkana, Arkansas; three grandsons, Toby Tyler of McKinney, Texas; Jason Jennings and wife, Valynda of Bentonville, Arkansas; and Wade Jennings of Moore, Oklahoma; two granddaughters, Lela Brown and husband, Robert of White Hall, Arkansas; Ginger Tyler and Anthony of Hope, Arkansas; five great-grandchildren, Madelyn, Ryleigh, Anna Claire, Asher, and Ella; and a number of brothers-in-law, sisters-in-law, nieces and nephews.
Mrs. Jennings was preceded in death by her husband, Gladney Jennings; her parents; a daughter, Glenda Sue Tyler; sons, Rodney Dale Jennings and Jerry Lynn Jennings; six brothers and six sisters.
Pallbearers will be Gammye Moore, Jeff Jones, Bill Orrick, Duane Jennings, Barry Jennings and Gregg Jennings.
Memorials may be made to the First Baptist Church in Taylor, Arkansas
Sign our online guest book at www.baileyfuneralhome.net.
Sponsor Content