It didn't have glitzy signs or serve over-roasted "gourmet" coffee. It didn't have a menu with 40 different styles of doughnuts or cute nicknames for its treats. No, all the Spudnut Shop had was some of the best, most unique pastries you'd ever taste and a special place in a small town's soul.
It was a pathway back to childhood — one of the last operational bastions of a bygone era of breakfast. It was a place that, no matter where the location or the time of day, one could almost hear the early morning conversations of elderly men as they read their crinkled newspapers and smell the black coffee brewing and the fresh yeast rising. The ghosts of the business always stayed, etched in the town's memory.
The restaurant's potato-rich dough was the secret to its doughnuts, or Spudnuts as they were called, but its familiarity was the key. Since 1959, the Spudnut Shop had a home in Magnolia. It was closed briefly from 2013-16 during a relocation, but on Thursday, the business opened for one final more time, serving hundreds of dozens of Spudnuts, Spudnut holes, twists, jelly-filled doughnuts, pigs-in-a-blanket, cinammon rolls, and hardy traditional breakfast items, before closing its doors for good.
"It's just time," said June Maloch, co-owner and operator of the Spudnut Shop.
Previously located at the corner of a small shopping center near N. Dudney Street, June and her family took over the restaurant and reopened it in March 2016 at its current site along E. Main in Magnolia. Her mother-in-law, Martha Maloch, ran the business until her death in 2013. The Maloch's have been involved with the Spudnut Shop since Martha's brother-in-law, Winston Maloch, opened the shop as a franchise chain location 60 years ago.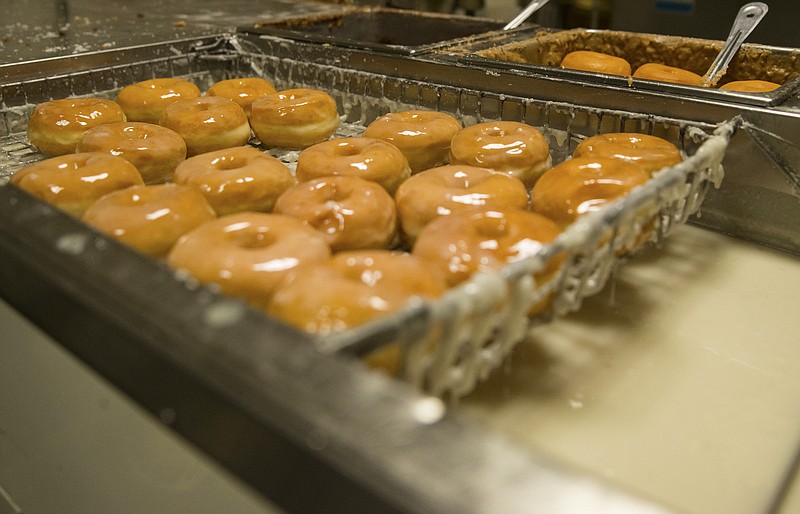 Fresh made spudnuts as they get a coating of glaze.
For decades, Spudnut Shops were prevalent across the country. By 1958, the Salt Lake city-based chain had upwards of 300 locations in 38 states. But by the mid-1980s, the company's central headquarters dissolved, leaving franchisees the option to stay open as independent restaurants — which was case with the Magnolia Spudnut Shop.
But with the corporate base vanishing, so did the access to specially-made, company-supplied potato flour for the Spudnuts. Because of this, the bulk of the locations folded. But some remained, forced to improvise and invent new methods to retain the rare taste and texture the spud flour provided. At Magnolia, they survived by supplementing the dough with actual potatoes.
June won't give away too much in the cooking process but said, "there is a recipe," and that she plans on keeping it under wraps.
"I can't give away all the secrets now," she said.
Magnolia's Spudnut Shop was also able to keep the original franchise equipment when the central chain folded. The vintage equipment was used until the restaurant's final day of business last week.
"It's still going strong," June added. "They knew how to make things back then."
The decision to close the restaurant was not easy. In fact, June and her family only came to the conclusion two weeks ago when the inquiries for the current building ramped up. The hours, time, and labor needed to freshly make pastries every morning, combined with the harsh modern realities of owning a small business, made the move easier.
"My husband and I are too young to go to bed at 7:30 each night, and we're too old to be working as hard as we do," said June.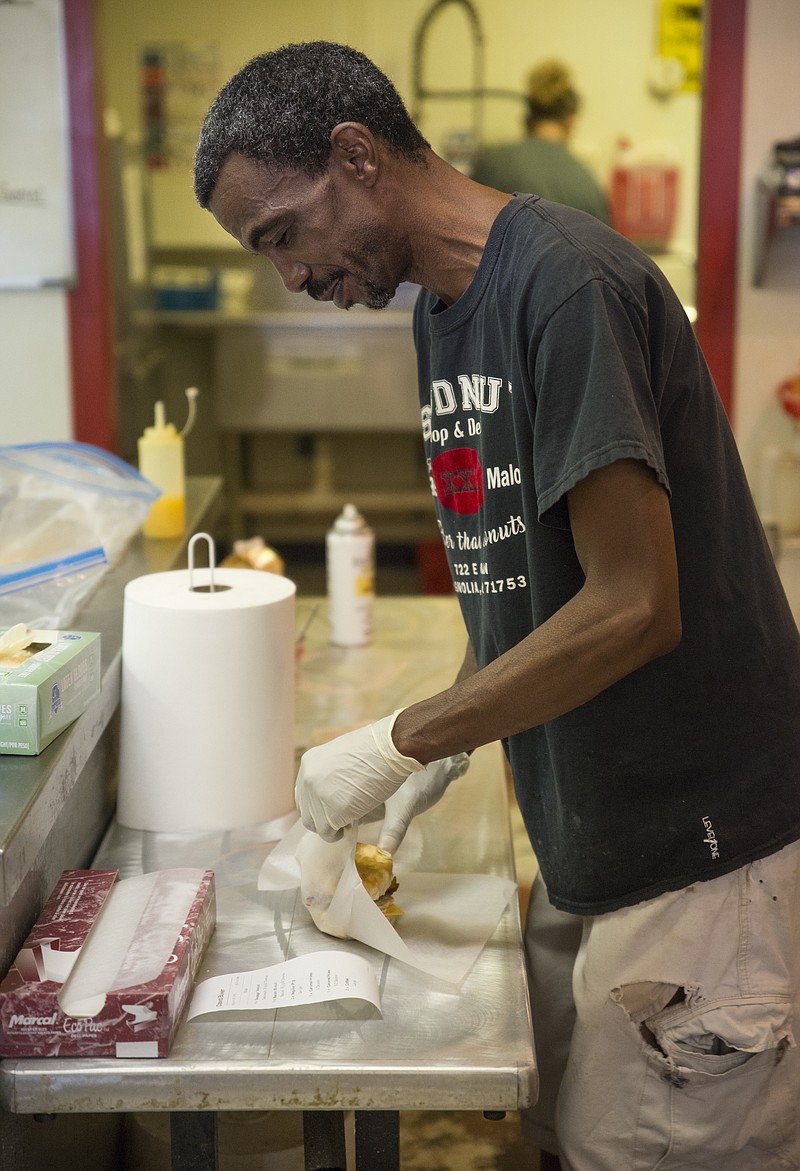 Spudnut Shop employee Tracy Jones wraps a sausage biscuit on the restaurant's final day of business.
Mornings typically started at 1:30 for some workers and the doors opened at 5 a.m. The time-consuming, triple-rise dough process is the key to good Spudnuts, but a nightmare for sleep patterns.
"We make everything fresh every morning," June added. "To do it right, the process has to begin several hours before we open."
In February, the restaurant cut back its hours and cut its lunch menu — which consisted of sandwiches, wraps, and other deli-centric dishes. The shop also went from operating seven days per week to six.
"The restaurant business is a hard business," said June. "When you own it, it's 24/7."
Law changes and food costs also made an impact. With voter-passed state minimum wage increases to $10 per hour taking effect in January, most small business owners are now forced to make tough decisions. The only way to survive could be between one of two ways: either prices go up, or costs have to be cut elsewhere — usually by lowering the quality of the food or laying off staff.
But June had no intentions of doing either. She didn't feel it was fair for customers to be gouged by price increases, and there's no way she would sacrifice food quality.
"It's hurting the small hometown businesses," she said. "I just didn't want it so expensive that people couldn't come eat breakfast."
Besides breakfast pastries, Spudnut Shop also served a full menu that consisted of pancakes, eggs, sausage, biscuits, bacon, and more — all homemade and all with top-notch ingredients.
Wednesday was initially scheduled to be Spudnut's last day of operation. But when word got out, the town responded. The business was so steady that June, persuaded heavily by her employees, decided to remain open one more day. On Thursday, a batch of 125-dozen Spudnuts and pastries were made and sold. By 8 a.m., the racks were barren, leaving only a handful of doughnut holes still cooking.
June even laughingly said, as she saw person after person file in: "I wish the response would have always been like this. Maybe we would have stayed open."
Owner June Maloch (left) on the final day of the Spudnut Shop.
Well wishes and warm messages flowed by the dozens Wednesday and Thursday over social media. Some were sad. Some were reminiscent. And some were thankful. But no matter where they came from, the bulk of the messages all reinforced the same thing: the institution that was the Spudnut Shop will be dearly missed.
"Magnolia folks won't be the same without Spudnuts," said one Facebook post.
For anyone holding out hope that Spudnuts may again one day be sold in Magnolia, there is still a chance.
"You never say never, " June said. "Who knows? We may pop up again in the future in a different building."
June's love of the business also won't go away.
"We love what we do, and we love the people," she said. "I'm not getting rid of the Spudnut equipment and the recipes," she said. "It's not out of the realm of possibility that we might come back one day."
Customer relationships and interactions will be her most missed aspect of the job. She reiterated multiple times on the final day of business that any articles written on the Spudnut Shop should reflect just how much gratitude and satisfaction she and her family had by serving the area for so long.
"I guess it's kind of melancholy," she said. "Some of our regulars have become family to us, and we're going to miss them terribly."
On Thursday, as the shop neared closing, customers continued to roll in. Even when they saw the empty shelves, they still smiled and thanked the workers for providing the town with something special.
Once the shop was empty of virtually every product, June walked to the front door and taped a sign that simply read: "Sold out of Spudnuts, Thank you Magnolia."