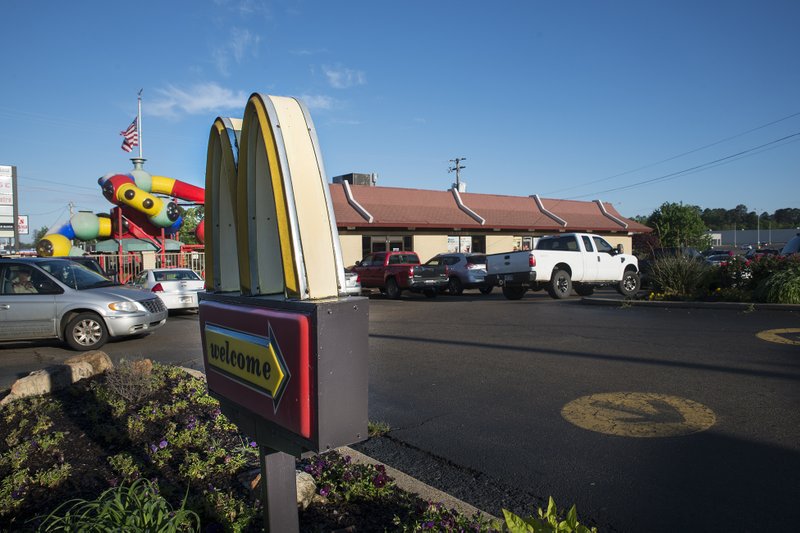 Cars on Friday morning drive through Magnolia's McDonald's at 1127 E. Main Street. The site beginning May 27 is expected to begin demolition and be rebuilt as a bigger, updated restaurant featuring more parking and a dual-lane drive-through. The construction is expected to last three to four months. - Photo by J.D. Bailey
McDonald's in Magnolia is officially getting a rebuild — and it's likely beginning in just over a month.
The project has been in the works for years, but details have now emerged that the chain's current E. Main Street site will be demolished later this spring and built anew as a dual-lane, totally revamped location.
"The word is out that we are going to be rebuilding the McDonald's here in Magnolia," said Steve Montgomery, owner-operator of the local restaurant. "Right now, we're looking at a date of May 27 — Memorial Day. It's not quite set in stone, but that's what we're planning."
The rebuild first came to light publicly in November when the Magnolia city inspector's office issued to McDonalds's Corporation a $1.35 million "new commercial" building permit at the chain's current 1127 E. Main address. Since then, details have been limited.
On Thursday, Montgomery was a guest speaker at Magnolia's weekly Rotary Club meeting. There, he broke down how the rebuild came about and just how the new site will be different than the old one.
The Hope resident has owned the Magnolia McDonald's for nearly a decade. The restaurant was first opened along E. Main on July 1, 1982, under the ownership of Larry Smith. In 2004, Tony Gilley, through a joint-partnership with McDonald's, became the owner-operator. Montgomery took over in February 2011.
The current owner is no stranger to the golden arches business model. He first became involved with the restaurant arena in 1979 in Forest City when his future wife's father was already a McDonald's franchise owner. Today, Montgomery – who also serves as mayor of the Hempstead County seat – owns not only the Magnolia McDonald's, but locations in Hope, DeQueen, and Springhill, La., and more.
When Montgomery took over the Magnolia location eight years ago, he said one of his primary goals involved building the town a new "store" since the property was beginning to show its age. Even after extensive interior remolding, he still felt a new building was needed.
"The store will be 40 years old in 2022," he said. "It was time for a new store. Once you get into those older buildings, you start to have problems with the plumbing, electrical — things like that."
He noted that even this week, he has dealt with utility problems due to the region's excessive amounts of rainfall.
With the tentative demolition date of May 27, the new building will be constructed at the same location as the current restaurant, but with new features — including the two-lane drive-through and modified architecture.
The new build has been in the works for nearly a half-decade already, according to Montgomery. But since the McDonald's Corporation is heavily involved with the real estate dealings, plans for the project were only recently ironed out.
Montgomery around four years ago initially proposed moving the restaurant to the current lot that Wendy's restaurant now occupies near Walmart's Supercenter along U.S. Hwy. 79, but that deal never transpired. McDonald's corporate was hesitant to go ahead so far out from its 2022 expiration of the 1127 E. Main Street lease, according to Montgomery.
"I thought, OK, well, we'll wait a year," he said.
But in that year, the project was put on hold as McDonald's restructured its regions. During that time, the Hwy. 79 plan fell through once Wendy's bought and built its own franchise at the lot.
"I was a little bit devastated for a while because I really wanted to be over in that area," Montgomery added.
As more time passed the owner said it became clear to him, after extensive examination, that the restaurant's current location at the corner of Frederick and E. Main was the way to go, seeing first-hand the abundance of business the "prime location" already brings in.
"If you look at Main Street in Magnolia, that's a very important corridor for this town," he said. "I thought it would help Magnolia to have an anchor on the east end of Main Street and the courthouse at the other end."
The only trepidation Montgomery had with the rebuild was due to the 90- to 120-day closing needed to accomplish construction on the same lot. The owner said the most difficult part about such a project would be the downtime some current employees will face. He stated that management personnel will be spread to Springhill and Hope, and that any other crew positions would try to be filled at his nearby restaurants, but not all could be accommodated due to the limited positions available.
"That's one of the hardest things when you do something like this," he said. "The employees have to take off for a little while."
Montgomery added that incentives will be used to help retain the Magnolia workforce.
The Magnolia McDonald's currently employs around 55 people and pays out just north of $600,000 in annual wages. With all of the new additions, the crew numbers will likely jump to approximately 85 once the new restaurant is open.
The most drastic new physical additions will involve parking, the building's design, and its exterior ordering logistics.
The new site will be built upon the old one but it will feature a larger building and parking lot. According to designs provided by Montgomery, the restaurant will acquire more real estate on the southern side, making way for the building to be shifted slightly and make room for additional parking spaces.
"It's going to be a bigger building and a bigger parking lot," he said. "We're adding property to the back part of it, into the big parking lot there."
More parking is also expected to be available near N. Frederick.
The new restaurant will also feature a dual-lane drive-through. The additional car line may take a little figuring out by employees and customers, but, in the end, Montgomery claimed it will make for far less congestion.
"This way, it will give us more cars to be able to go at the drive-through, instead of blocking all the way up to Frederick Street," he said.
Roughly 70 percent of all local McDonald's business comes by way of the drive-through. With the dual lane, that number is expected to rise another five percent.
"Magnolia has a high volume of drive-through — higher than my other stores," Montgomery added. "And you can see that whenever you drive by and see the cars lined out to Frederick Street."
To keep orders correct, a photo will be taken of each car during its order, then the food will be assigned and matched to avoid mix-ups in a two-lane system. There will also no longer be parking directly next to the building near the drive-through to make way for the additional lane.
For the exterior, the new building will feature McDonald's new "desert scheme" that features a more modern, sleek design, with far less bright red and more Earthy tones. The architecture also features sleek, industrial-looking metal banding. The plans follow with McDonald's recent trend of moving away from the louder, more cartoonish designs and into a more muted, natural feel.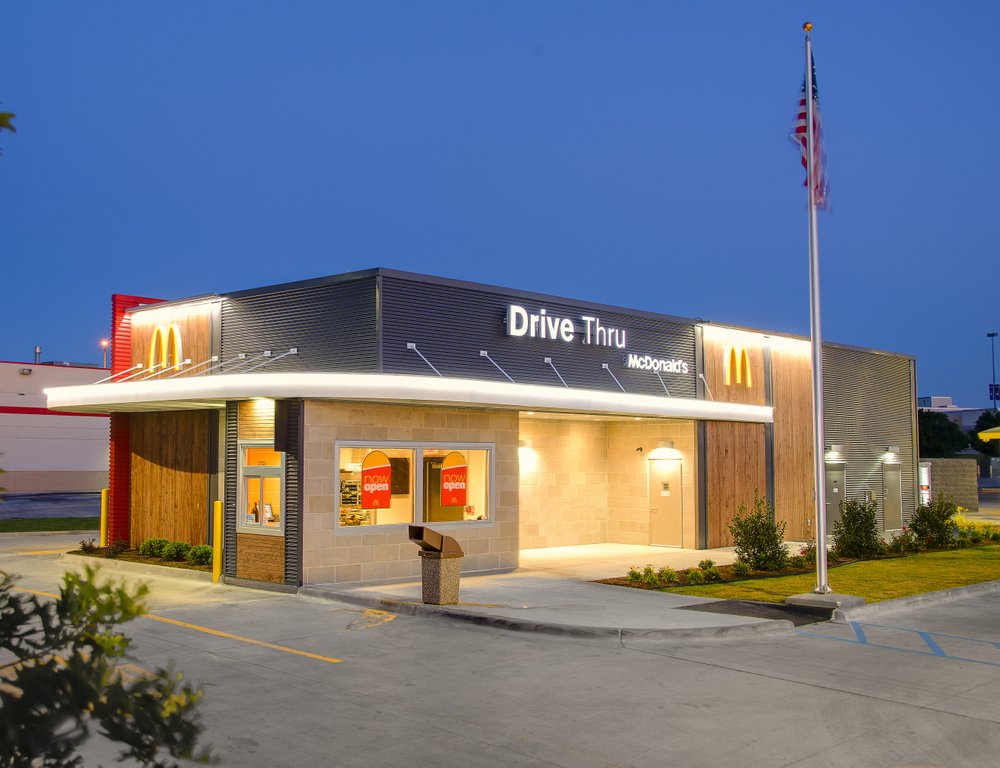 A McDonald's press photo shows a similar color scheme and design to the new Magnolia McDonald's. Note: This is not an exact mockup of the new location. It is a Denton, Texas, drive-thru only restaurant. Magnolia's site will be much larger and contain more features. The color scheme and design are similar to give readers a visual idea of the new building.
One feature that will not be retained is the playground area. Montgomery said most of the outdoor recreation spaces have been phased out.
For the interior, McDonald's newest and best kitchen equipment and conveyor-belt assembly techniques will be added to go along with the "wood and stone" décor package that features a "more spacious, wide open area" for patrons. The interior will be akin to the inside of the Hope McDonald's and the seating capacity will jump from around 96 to 106.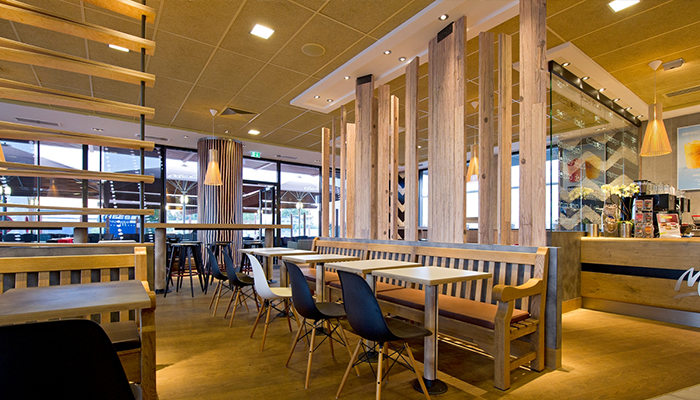 A McDonald's press photo shows the "wood and stone" decor that Magnolia's rebuilt McDonald's will feature.
The restaurant will also feature a self-order kiosk for anyone not wishing to wait in line to order. The kiosk, though, does not accept cash. The owner said about 20 percent of the customers use the option.
Magnolia produces a "fairly viable business," Montgomery said, with an average yearly sales volume of $2.8 million. Of that, around 10 percent is derived from $1 large drinks alone, with 256,616 sold. The restaurant last year also sold 12,200 Big Macs.
As the Hope mayor and a local businessman, Montgomery said he has high hopes for the rebuild, even stating he expects sales numbers to jump 15-20 percent once the rebuild is finished. He also said enjoyed working in Magnolia, both civically and commercially.
"Every chance I get, I try to steal ideas from Magnolia," he added. "… I look forward to that future partnership."
Sponsor Content