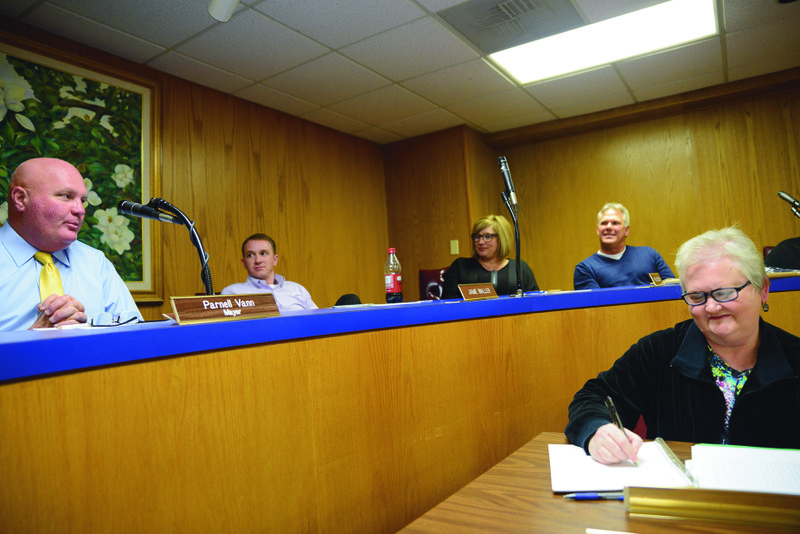 Magnolia Mayor Parnell Vann (left) speaks Monday during a Magnolia City Council meeting. Also pictured (L-R) are Magnolia Aldermen Jamie Waller, Kelli Souter, and Gary Farrar, and District Clerk Rachel Waller.
A deal that could bring upwards of 140 manufacturing jobs to Magnolia over the coming years advanced further this week as the local city council voted unanimously to approve a $300,000 city economic development investment in the project, pending a cost-benefit analysis study result.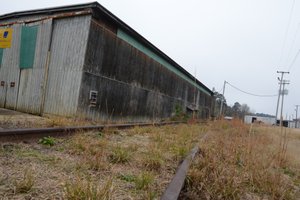 The rail spur and front warehouse leading into the new Texas CLT plant at 1012 Shanhouse Street in Magnolia.
Texas CLT LLC, a company specializing in cross-laminated beam production, is set Thursday to finalize a deal with the state to take ownership of the 20-acre Shanhouse Street industrial property in Magnolia, formerly occupied by Arkansas Laminating (ArkLam) and Unit Structures LLC. The complex has been vacant since ArkLam closed its doors in 2015. Both former companies specialized a similar, yet different, laminated beam manufacturing process. The industrial site since the 1950s was a job provider in Magnolia.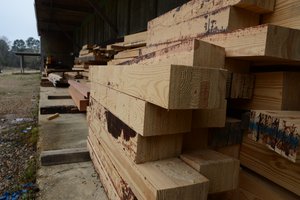 Unfinished beams sit at the former ArkLam, Unit Structures property in Magnolia. Texas CLT, the new company scheduled to take over the mill, will produce a slightly different, cross-laminated beam.
The Arkansas Economic Development Corporation in September approved a $750,000 bond guaranty to a group of Texas CLT investors that would reopen the mill. The Magnolia economic development team, led by Magnolia Economic Development Director Cammie Hambrice and aided by Mayor Parnell Vann, had also been in negotiations with the company for months.
The Texas-based investment group is set to pump an estimated $10 million into the former ArkLam property, according to the mayor. The city, in turn, will make a six-figure contribution of its own to go toward the purchase of equipment.
"There's going to be somewhere in the neighborhood of 140-plus jobs -- 140 to 145," Vann added. "Our investment in those jobs is going to be $300,000. I've asked that that money is spent on a piece of equipment."
The per-job cost of the city's investment will be $2,142.
As the mill is not yet fully up-and-running, the specific equipment purchase is not yet known. The mayor indicated it would likely be an item or series of items needed for the workers to complete their tasks. Vann went on to say that he has asked Cobb to be sure to highlight which item the city eventually purchases.
"If any of us go out there at any time, we can say, 'that's what you bought, right there' –- wheel loader, lifts, saws," the mayor added.
Texas CLT investors include new plant manager Brant Cobb — also a listed owner of Cobb Lumber Co. in Timpson, Texas, that produces multiple timber and geotextile products — and Bill and Maryjane Miles. Cobb has already been in Magnolia prepping the mill property and hiring for the past three weeks.
The monies to be used in the city's investment are not general tax funds. Magnolia voters in 1997 approved a 0.25-cent sales tax to generate economic development assets to be used locally. The $300,000 will come from that account.
The former Magnolia Economic Development Corporation (MEDC) –- a contract non-profit, non-city entity –- previously controlled the funds as well as the task of local economic development until state laws changed in January 2018, demanding that a municipality either put its economic development out for bid — which in, theory could have led to a non-Magnolia-based organization controlling the funds by way of winning the low bid — or take control of the duties itself. In November 2017, the Magnolia City Council voted to absorb the task of economic development into the local government. MEDC in 2018 relinquished the taxpayer-generated funds and was said to be dissolved.
In total, the city economic fund contains $630,000 for 2018, according to Vann. Another $600,000 is also budgeted 2019's take-in. By simple deduction, the $300,000 Texas CLT investment would still leave the city with $330,000, and twice that scheduled to be generated over the course of next year. Those funds could then be used for further, separate industrial development projects, which, according to the mayor, are already in the works.
"I'm very hopeful that I'm back at you in the summer with another project," he said.
Vann this week announced Texas CLT was already well into the hiring process.
"They've been hiring folks in our community already," he said. "They've made a tremendous cleanup effort on the property out there."
The cross-laminated beams Texas CLT will produce are more fire resistant than the traditional glued and pressed laminated beams, due to their highly compressed fillings, as well as lighter and more environmentally friendly.
Although the city council on Monday voted to approve the city's investment, it did so with one caveat. Since the cost-benefit analysis of the investment is not yet finalized, if the report results indicate a negative outlook on the project, the city's investment would not advance.
"Tonight I'm going to ask you to vote in favor to do this deal with Texas CLT," the mayor said to the council, "as long as the cost-benefit analysis comes back good; if not, we come back to the drawing board. What the state needs from us is approval in our minutes that we are on board with Texas CLT to come to Magnolia."
The mayor acknowledged the investment is a sizable one but that it should be worth it.
"With $10 million, I'm just thankful that our $300,000 is going to help in some way," he said. "And that's a lot of money for us."
The state's final monetary contribution to the project Monday was not stated.
Before approving the measure, Alderman Jamie Waller specifically asked about the nature of the city's contract with Texas CLT, and what would happen, if for some unforeseen reason, the business did not succeed.
"The $300,000 that we invest in equipment — that amount that is owed back to us will be reduced by a percentage every year," Hambrice said as she took questions from the council. "It will probably be on a 10-year period."
In her comments, the economic development head said the company will be on a "ramp up" process as the business begins, and that the full slate of jobs is not expected from the get-go.
"We won't have those 140 jobs all at once," she added. "They're going to open an initial line, and that whole first-year production is already sold."
Once the first line of product is up-and-running, the second line will start production. The ramp-up process is expected to take around three years.
"We're going to require them to have a minimum number of employees, and if they were to close in year five, they would owe us back cash," Hambrice added.
The contract, which is still in the pre-signing phase, will be drawn through City Attorney Mike Boyd's office. The company is on board with the agreement, according to Hambrice.
"They already understand what that's going to look like," she said.
The Magnolia jobs, due to economic zone designations, must pay at least $13 per hour. Although specifics were not given, the company was stated this week to have wages above that threshold.
"They're paying more than that out there," Hambrice said.
The primary competitor in luring Texas CLT was actually from within its own borders.
"We were competing with Texas in this," added Hambrice.
Some of the mill's new equipment is expected to be in Magnolia next week, with more shipments arriving in the following weeks and months. Production, Hambrice stated, could begin as soon as March.
The company at first could begin with 50 jobs, then up its workforce numbers as the product lines grow.
"Eventually, they're going to make more than one product," Hambrice said.
The match of Texas CLT and Magnolia — which sits in one of the most timber-rich areas of the country — has been great so far in the process, according to the economic director.
"…They're all in," she said. "They're very impressed with Magnolia. I just think it's going to be a great company for us."
Sponsor Content